USA Today Col: "Give third parties a voice" By Giving Them Some Air Time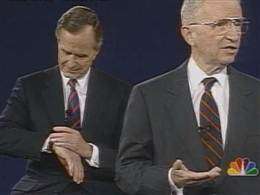 Reason contributor and Washington Center for Politics & Journalism head Terry Michael has an engaging column in USA Today. To create a more robust - and representative - political dialogue, he suggests television networks and cable news channels let Gary Johnson, the Libertarian Party candidate for president, and Jill Stein of the Green Party, "briefly address the nation immediately after Mitt Romney and President Obama deliver their acceptance addresses" at their national conventions.
All voters would miss out on is the predictable chatter of talking-point-programmed pundits networks always put on right after the Republican and Democratic presidential candidates accept their parties' nomination at their respective conventions. Instead of post-speech analysis, citizens would hear important alternatives, from the libertarian-conservative, free-market promoter Gary Johnson, and Greens candidate Jill Stein, the progressive, pro-government advocate.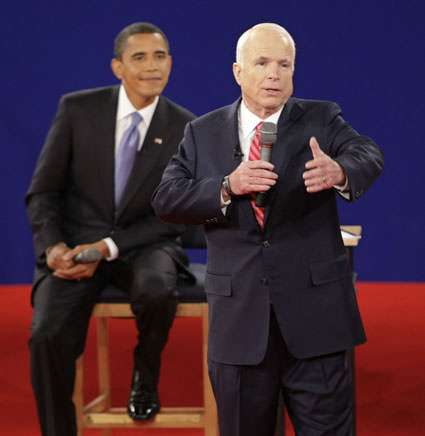 Michael recognizes "this isn't the ideal solution" and he's not calling for a return to the old "equal time" provisions in the Fairness Doctrine that actually stymied political discussion. Rather, he's pointing out what everyone knows: The presidential debates have been rigged to keep out everyone but Republican and Democratic candidates. Michael, a former press secretary for the Democratic National Committee, was there at the start of the current system and his insider's account should be dispiriting to anyone who's interested in opening up political discourse.
Formed in 1987 by Democrats and Republicans, the Commission on Presidential Debateswas designed to restrict televised face-offs to their candidates. I know. I coordinated the Democratic press relations announcing the commission. I even drafted the news release as a young press secretary in 1987. I assisted DNC Chairman Paul Kirk, working with our Republican counterpart, RNC Chairman Frank Fahrenkopf, now co-chair with former press secretary Mike McCurry.

The debate commission's rules make participation all but impossible for participants other than Democrats and Republicans. Third parties can't qualify unless they poll at least 15%, and they can't get 15% if they don't receive news coverage — a Catch-22.

As a result, the debates avoid serious discussion of issues that the two-party partisans see as "third rails" or that both prefer to avoid.
Michael argues that allowing the two highest-profile minor-party candidates a few minutes to "address millions of voters , we may avoid the quadrennial fight over excluding those voices from the debates. That would be a win-win for voters, candidates, the debate commission and TV networks."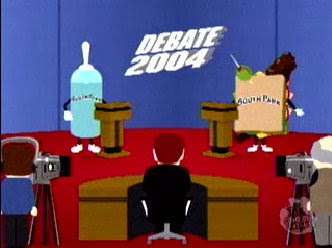 As a self-described libertarian Democrat (read his blog here), Michael is openly pulling for Johnson but his proposal goes far beyond any sort of special pleading. The two legacy parties have never been less popular and strictly from a ratings point of view, nobody's going to complain about having to wait five or 10 minutes before listening to Paul Begala or Karl Rove start spinning like a meth-happy pole dancer.
Bonus, barely related, must-watch vid: Here's a Today Show clip from 1976 in which Marshall McLuhan talks about the absolute failure (technical and ideological) of the first presidential debate between Jimmy Carter and Jerry Ford. "The glorious moment," said the communications theorist to Tom Brokaw and Edwin Newman, "was the rebellion of the medium against the bloody message." McLuhan was talking about the glitch that left the set and candidates silent for several minutes. It's great TV and a reminder that for as good as the new media world of today is with its infinite offerings, there was a time when great shit happened on the blandest of bland network shows.