Syphilis Cases Lead to Outbreak of Nanny-Statism—UPDATED
A temporary self-imposed porn film shutdown to screen for disease is apparently not enough for the regulation class.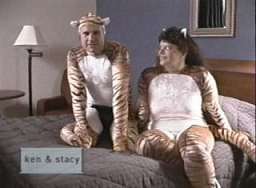 Forget about the corn; we've got a porn drought coming! Via the Los Angeles Times:
Jolted by the possibility of a syphilis outbreak among its ranks, a Los Angeles-based trade group that represents the adult film industry announced a nationwide moratorium on X-rated productions while more than 1,000 porn performers are tested.

The Free Speech Coalition issued the call on its website after reporting that one performer tested positive for syphilis, a sexually transmitted disease, and had begun notifying sexual partners of that information.
The Los Angeles County's Public Health Department reported five cases of syphilis in the porn industry within a week. According to the Free Speech Coalition's site, porn producers within the industry are covering the costs to tests all the performers through its Adult Production Health and Safety Services Program. (UPDATE: The Associated Press reports four more cases have been identified, bringing the total to nine.)
The timing is notable, as there will be an initiative on the ballot for Los Angeles County residents in November to mandate condoms in porn shoots (and also require permits, inspections and other regulatory fees). So, of course, there's going to be some politicization of the outbreak:
Michael Weinstein, president of the AIDS Healthcare Foundation, said Monday the developments show that adult film companies are incapable of policing themselves. His group said the syphilis incident would be used as part of the campaign for Measure B, a proposal on the Nov. 6 countywide ballot mandating the use condoms during professional X-rated shoots. And it accused adult film productions of being "bad corporate citizens," saying that no other business would tolerate transmission of any diseases, sexual or otherwise.

"We don't settle for that in food preparation. We don't settle for that in factories," said Tom Myers, general counsel for the group. "I can't think of any other [workplace] where there's an acceptable level of transmissible diseases as a normal course of business."
Hrm. Interesting comments. Who called for the moratorium again? And as for the transmission of disease, kindly Google "hepatitis outbreak" and take note of all those restaurants that are still in business. What we "don't settle for" in the food industry and all those regulations and inspections doesn't actually stop outbreaks from happening. We clearly do "settle for" a certain amount of risk of food-borne disease.
The Times makes a point of mentioning that syphilis transmission in the state jumped 18 percent from 2010 and 2011, but that jump was to 2,500 cases for the year. California's population is more than 37 million people.
Does the continued existence and transmission of HIV mean that the AIDS Healthcare Foundation tolerates the transmission of a certain level of the virus? Do they need to be policed? What an absurd argument.
So what's really going on here? The answer might be found in the Measure B petition itself:
"Each applicant who is also an individual must also provide the department with proof of successful completion of a blood borne pathogen training course that has been approved by the department."
Rent-seeking: not sexy in a French maid's uniform or a leather harness and jockstrap or however else you might dress it up. No doubt the AIDS Healthcare Foundation would be perfect providers of such a training course, right?
Earlier in the year, Reason.tv gave Nanny of the Month honors to Los Angles Mayor Antonio Villaraigosa for signing condom regulations for porn filming within the city. Measure B, if it passes, would stiffen these measures (and not the good kind of stiff):