Federal Asset Forfeiture Continues to Skyrocket Under Obama
The Justice Department's asset forfeiture fund under President Obama is the largest it's ever been, having grown from $500 million in 2003, to $1.8 billion in 2011, according to a new report from the GAO.
In addition to the fund's size, payments from the fund to local law enforcement agencies totalled $445 million in 2011, another all-time high. These payouts are part of the DOJ's "equitable sharing agreement," which incentivizes local cops to conduct federal raids. They then get a portion of the assets seized during the raid (more money if they contribute more resources). That money is then used to finance SWAT and paramilitary training, as well as the acquisition of military grade weapons and equipment.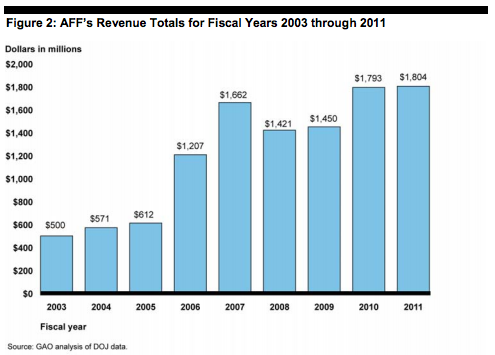 While the report doesn't specify the payout from particular investigations, it's likely that in California, which received $80 million in 2011--or 18 percent of all shared asset forfeiture funds given to local and state law enforcement last year--much of the money came from assets seized during raids on medical marijuana dispensaries. (For more on equitable sharing, and the abuses it leads to, read the Insitute for Justice report "Policing for Profit.")
More noteworthy even than the payout numbers to local and state cops is that the cost of maintaining the asset forfeiture fund has skyrocketed.
In 2008, the last year of the George W. Bush administration, the cost of operating the asset forfeiture fund totalled $409 million. In 2009, the first year of the Obama administration, that number jumped to $512 million. The next year, operating the fund cost $569 million. In 2011, operating the fund cost $491 million.

Where does that money go? According to the GAO report, "Cost drivers include salaries for government employees, information systems costs, asset management and disposal contracts, and contracts for administrative support staff, among other things."
Federal law allows for two different types of asset forfeiture. The GAO describes them as such:
Judicial forfeiture, both civil and criminal, is the process by which property may be forfeited to the United States by filing a forfeiture action in federal court. In civil forfeiture, the action is against the property and thus does not require that the owner of the property be charged with a federal offense. The government must only prove a connection between the property and the crime. By contrast, criminal forfeiture requires a conviction of the defendant before property is subject to forfeiture.
In many states there are limitations to what local law enforcement agencies can seize without seeking a conviction, which is why they often invite the feds to "adopt" their investigations, particularly drug investigations, in order to seize assets without actually charging anyone, or winning a case. (The IJ report linked above explores this loophole in horrifying detail.)
Here's a list of the largest asset recipient states in 2011:
California cops received $79 million
New York cops received $48 million
Florida cops received $38 million
Texas cops received $31 million
Georgia cops received $30 million
Illinois cops received $16.9 million
Michigan cops received $12.8 million
North Carolina cops received $10 million
Ohio cops received $9.9 million
The report also says that more state legislatures are adopting broader asset forfeiture laws, reducing the need for joint operations with federal law enforcement.
"In 2003, adoptions made up about 23 percent of all equitable sharing payments, while in 2010, adoptions made up about 17 percent of all equitable sharing payments," the report reads."According to DOJ, as more states have established their own forfeiture laws, they may rely less on DOJ to adopt forfeiture cases and may instead pursue forfeitures under state law when appropriate."
If Obama's crackdown on state-legal medical marijuana in California, or the DOJ-led raids of head shops across the Midwest, or the attacks on pharmacies in the Southeast, are any indicator, 2012 will be another banner year for the federal asset forfeiture fund.