Gallup: Despite Mexico's Drug Crackdown, Fewer Feel Safe and Trust the Police
Further evidence that drug wars probably hurt more than help.
Five years after Mexico embarked on an aggressive "war on drugs," a recent Gallup poll finds Mexicans are less likely to report gangs and drugs in their neighborhood, but are also less likely to feel safe and trust the police.
Whereas 57 percent of Mexicans reported feeling safe walking alone at night in 2007, by 2011 only 42 percent agreed. In 2007, 50 percent had confidence in their local police; confidence dropped 15 points to 35 percent by 2011.
This shift coincides with a 5 percent decline between 2007 and 2011 among Mexicans reporting illegal drug trafficking (33 percent) and gangs (46 percent) in their neighborhoods.
These Gallup poll results suggest there is likely a cost to reducing drug trafficking. Although correlation is not causation, theories of black-market behavior suggest that crackdowns drive more activity to the black market and outside the rule of law. Without rule of law protections, it is less surprising that disputes may resort to violence and other activities that may cause people to feel less safe and have lowered confidence in police.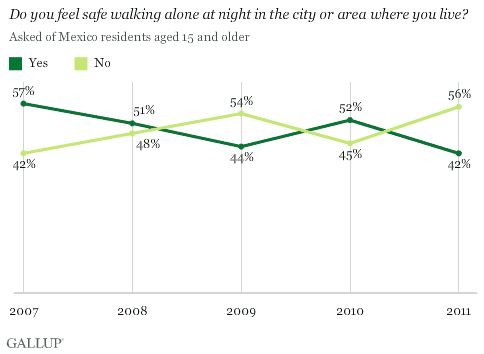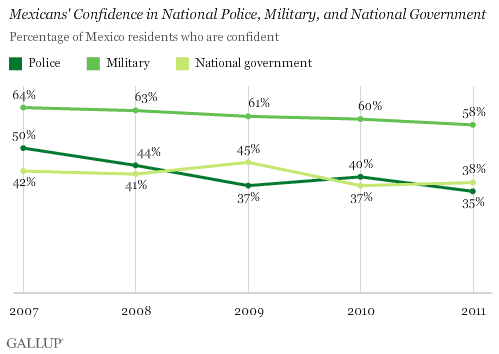 ??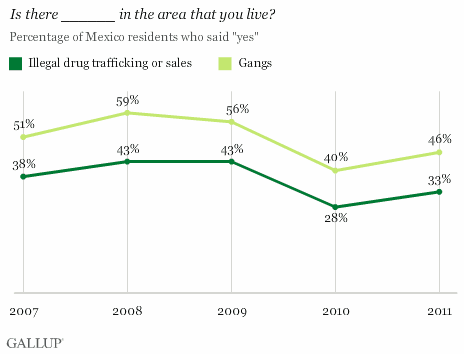 Results are based face-to-face interviews with approximately 1,000 adults in each survey, aged 15 and older, and conducted from July 2007-December 2011 in Mexico. For results based on the total sample of national adults, one can say with 95% confidence that the maximum margin of sampling error is ±4 percentage points. In addition to sampling error, question wording and practical difficulties in conducting surveys can introduce error or bias into the findings of public opinion polls.
For more complete methodology and specific survey dates, please review Gallup's Country Data Set details.
Follow Emily Ekins on Twitter @emilyekins.