Cory Maye's Judgment Day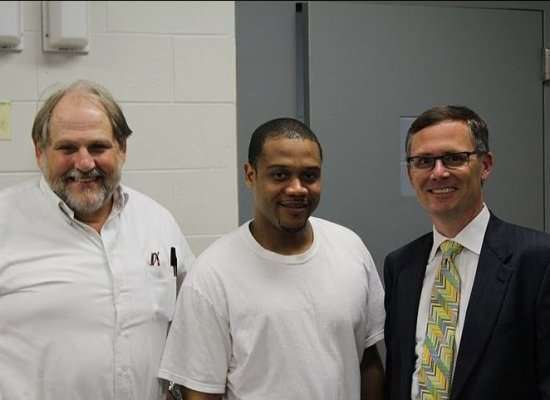 Former Reasoner Radley Balko, fittingly, was the only reporter in the courtroom last week when former death row inmate Cory Maye was sentenced to time served for manslaughter, thus ending his decade-long legal nightmare that began when cops busted down his door after midnight in a botched drug raid that resulted in Maye shooting and killing a cop. Balko has a long piece up at the Huffington Post talking about Maye's bittersweet day of freedom. Excerpt:
Reading slowly and nervously from the paper, Maye says he's "deeply sorry" for [Ron] Jones' death. He apologizes for the pain he has caused the Jones family. He says he never had any intention of hurting anyone, and that he has "shed many tears, and said many prayers for Mr. Ron and the Jones family." He concludes, "I hope we can forgive and all move forward and begin to heal." [Judge Prentiss] Harrell then sentences Maye to 10 years, with credit for the time he has already served.

In the gallery, two mothers begin to weep. [District Attorney Hal] Kittrell casts a long, sorrowed look at Jones' parents. Jones' mother shaking her head from side to side. Dorothy Maye bows her head. Cory Maye's aunt strokes her back. Maye is ushered through the gallery to the witness room. The court moves on to the next case. […]

A few moments later, I return to the witness room, expecting Maye to be jubilant with thoughts of his pending freedom. He isn't. He's holding kleenex, and he's wiping tears from his eyes. The ever-present grin is gone. I ask what's on his mind. He starts to answer, but he can't. [Maye's attorney Bob] Evans, Maye, [attorney Ben] Vernia and I sit for a few moments in silence.

"I don't think I've ever seen you without a smile for this long," Evans says. "You're pensive, aren't you?"

Maye shakes his head in the affirmative.

"You're thinking about Ron, aren't you? About the Jones family?"

Maye nods, and drops his head into his hands.
Whole thing here. Reason's voluminous Cory Maye archive here.