Small Florida Town Reaches Major Milestone: First Death by Cop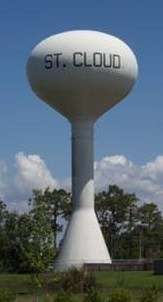 This morning, my hometown of St. Cloud, Florida, (population 24,000, give or take a snowbird) had its "first officer-involved fatal shooting" since the city was incorporated in 1915 as a retirement colony for Civil War veterans.
According to the Orlando Sentinel, St. Cloud PD were called to a domestic dispute between two women, during which a gun was fired, but no one was hurt. When police arrived, both women exited the house, one of them unarmed, the other brandishing a gun. The woman with the gun ran away from police, who chased and then shot her.
The woman died at the hospital.
St. Cloud Police Chief Pete Gauntlett told the Sentinel, "It's my understanding she brandished the weapon toward the officers after repeatedly being told to drop it."
The chase started on the 400 block of Tennessee Avenue, two blocks north of the duplex my mother, brother and I shared with a convicted child rapist who owned a sporting goods store a few counties over. (While he never got his hands on us, he did show my brother and me how to pick the lock to the front door of our unit when we forgot our house key. In hindsight, he exercised considerable restraint.) The shooting occurred one street over on Alabama Ave., where my friend Sean lived with his mom and a pet squirrel that–I swear to God–had its own bedroom. Neighbors said they heard only four shots.
According to the Sentinel, it had been 20 years since St. Cloud police last shot someone. Considering that St. Cloud is second only to Holopaw, and maybe Yeehaw Junction, in meth production in Osceola County, I am surprised that it took this long for the St. Cloud PD to shoot someone to death. The Florida Highway Patrol is investigating the shooting, and I sincerely hope Gauntlett's "understanding" holds up.