Wet at Last
Dallas legalizes alcohol.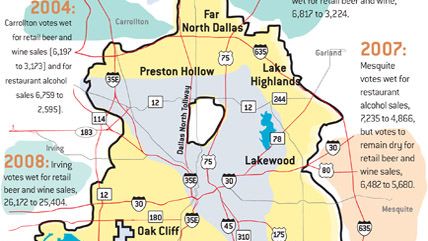 Californians did not legalize marijuana in November, but Dallasites did finally manage to legalize alcohol. By a margin of nearly 2 to 1, voters approved a ballot initiative that allows grocery and convenience stores throughout the city to sell beer and wine.
As a result of precinct-level votes, Dallas was a patchwork of dry and wet zones for nearly a century. You could buy alcoholic beverages at, say, the Whole Foods on North Central Expressway but not at the Whole Foods on Preston Road. Rules for restaurants also varied by location: In some neighborhoods, you could order a cocktail only after joining a "private club." A companion measure that also passed by a large margin in November abolishes that requirement.
Writing in the Advocate, a local magazine, Jeff Siegel and Rachel Stone said the vote on these two propositions—which, among other things, reflects a demographic shift from Baptists and Methodists toward more drink-tolerant religious groups such as Catholics, Jews, and nondenominational Protestants—was "the biggest wet-dry election in U.S. history since the end of Prohibition." They called it "a landmark moment," since quirky alcohol rules were "as much a part of Dallas as 100-degree days." And about as welcome.