Gracias, Sean!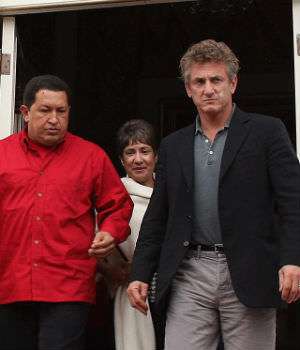 As I blogged the other day (and discussed today on Ed Morrissey's radio show), Hollywood knuckle-dragger Sean Penn told Hollywood dullard Bill Maher that American critics of Hugo Chavez should be thrown in jail for their "biases." Now Penn is being praised by the caudillo for defending his vapid, failed revolution. From AP:
Venezuelan President Hugo Chavez is grateful that actor Sean Penn has defended him against his critics within the U.S. media. In an appearance on HBO's "Real Time with Bill Maher" last week, Penn slammed Chavez critics who refer to the socialist leader as a dictator.

The Oscar-winning celebrity noted that Chavez has won repeated elections and suggested that media critics who call him a dictator should be jailed.

He says that "there should be a bar for which one goes to prison for these kinds of biases."

Penn has visited Chavez several times and frequently defends the president's leftist political policies.

Chavez welcomed Penn's comments Wednesday and thanked the actor for standing up to his detractors.
Why would one be allowed to besmirch revolutionary achievements like this one, noted today by the counterrevolutionary terrorists at Reuters:
Homicides in Venezuela have quadrupled during President Hugo Chavez's 11 years in power, with two people murdered every hour, according to new figures from a non-governmental organization. The Venezuelan Observatory of Violence (OVV), whose data is widely followed in the absence of official statistics, said the South American nation has one of the highest crime rates on the continent, with 54 homicides per 100,000 citizens in 2009. That rate is only surpassed in Latin America by El Salvador where 70 in every 100,000 citizens were murdered last year, the OVV said, citing official statistics from that country.
After 11 years, a baffling stream of international support, and an enormous spike in oil revenue, Venezuela is an utter mess. It's an obvious point, I suppose, but just imagine Penn's response if, after three presidential terms, a bit of court packing, and a series of constitutional amendments designed to keep him in power forever, George W. Bush presided over a wrecked economy and a country overrun by violent crime.