'God Saves Our Bunnies'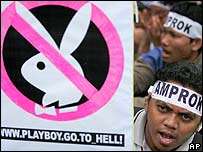 An Indonesian court has rejected indecency charges against the editor of Indonesian Playboy, finding that the magazine's slightly risqué pictures of clothed women "could not be categorized as pornography" because all the naughty bits were covered. Islamic activists, who want to forbid women from wearing "provocative clothing" in everyday life as well as magazine spreads, are pissed:
A leader of the Islamic Defenders Front, Irwan Asidi, warned his organisation would "declare war" on Playboy. "We will attack the Playboy office and sweep up copies of the magazine, which will destroy the morals of Indonesian children."