Nobel Prize Winner Joseph Stiglitz, Hugo Chavez, and the Return of Socialism: Podcast
Journalist and Soho Forum co-founder Gene Epstein on economists' romance with strongmen and his upcoming debate with Jacobin's Bhaskar Sunkara.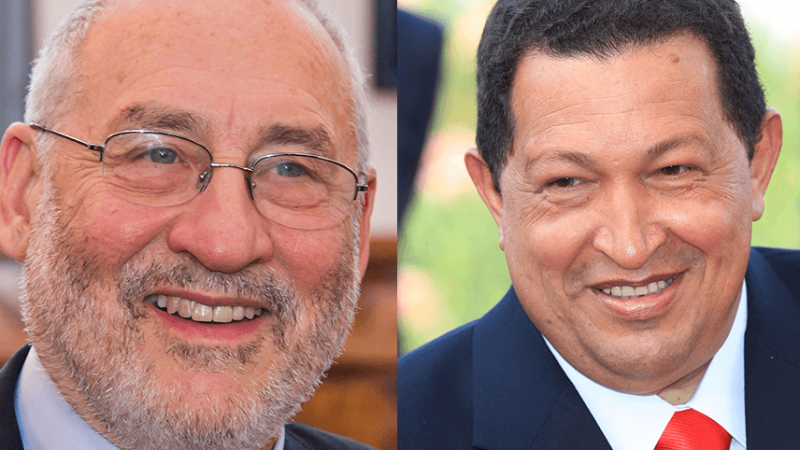 For a quarter of a century, Gene Epstein was the economics editor and a columnist at the business magazine Barron's. Before that, he served as an economist for the New York Stock Exchange. Now, he runs The Soho Forum, a monthly Oxford-style debate series held in New York that covers topics of special interests to libertarians. (As a co-sponsor, Reason records and releases audio and video versions of each debate. Go here for a full archive).
Epstein has just published a major essay in City Journal, the magazine of the Manhattan Institute, about the long and error-prone career of Nobel Prize-winning economist Joseph Stiglitz, whom he calls "continually mistaken" but "chronically admired." Stiglitz, writes Epstein, is the apotheosis of "elite myopia" when it comes to trusting government over free markets to improve the lives of the poor. Read the article here.
In the latest Reason Podcast, I talk with Epstein about the continuing influence of Stiglitz, a former adviser to Bill Clinton and chief economist at the World Bank who is a favorite of progressive Democrats such as Sen. Elizabeth Warren (D–Mass.). We also talk about Epstein's upcoming October 15 debate in New York with Bhaskar Sunkara, the editor and publisher of the left-wing Jacobin magazine, about whether socialism or capitalism is the better system for making people more free and prosperous. To buy tickets, which must be purchased in advance, go here now.
Subscribe, rate, and review our podcast at iTunes. Listen at SoundCloud below:
Don't miss a single Reason Podcast! (Archive here.)