New Hampshire Woman Can Keep Her 'PB4WEGO' Vanity Plate
The state attempted to recall the vanity plate on the grounds that it referenced "excretory acts or functions."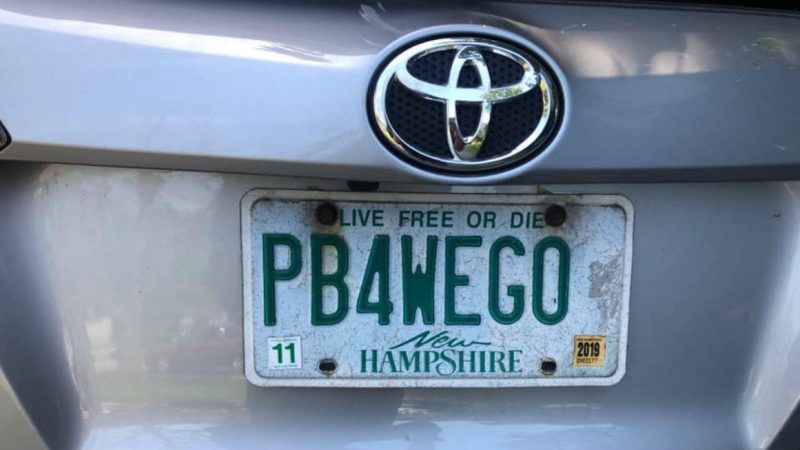 (Wendy Lee Auger/Facebook)
Any normal person driving behind Wendy Auger's vanity license plate would likely have a quick laugh and continue about their day. But for a while there, the state of New Hampshire didn't think it could tolerate "PB4WEGO" on the roads.
Seacoast Online reports that Auger first obtained the plate—in case you missed the joke, it's short for "pee before we go"—15 years ago. A few weeks ago, she got a letter in the mail saying it was to be recalled.
The state recently issued stricter rules about vanity plates, in the wake of a 2014 case before the state Supreme Court. According to the decision, resident David Montenegro—who has since legally changed his name to "human"—applied for plate that said "COPSLIE." The Department of Motor Vehicles rejected the application after employees found it "insulting." The court decided that New Hampshire's ban on vanity plates that were "offensive to good taste" was unconstitutionally vague and left room for subjective enforcement.
So New Hampshire produced a more carefully delineated list of subject matters prohibited for vanity plates. And one of the topics it bars is references to "excretory acts or functions," which technically includes Auger's plate.
"I'm not the type to sit here with a picket, but come on," Auger told Seacoast Online.
Since going public about her predicament, Auger gained a strong ally: New Hampshire Gov. Chris Sununu told CNN yesterday that he had spoken to the DMV on her behalf.
"Upon this being brought to my attention, I reached out to the Division of Motor Vehicles and strongly urged them to allow Wendy to keep the license plate she has had for the last 15 years," he said. "I recently left a message on her phone to share the good news that her plate will not be recalled."
While Auger's plate is saved, her fight highlights a larger concern about freedom of speech. How much power should the state have over what can and cannot appear on someone's vehicle? If your crackdown on offensive speech is sweeping enough to threaten a cheeky reminder to use the bathroom, was the crackdown a good idea in the first place?