Is the White House Considering Easing Chinese Tariffs? The Stock Market Hopes So
Dow Jones skyrockets on news that Steve Mnuchin is leading behind-the-scenes effort to reduce tariffs on China.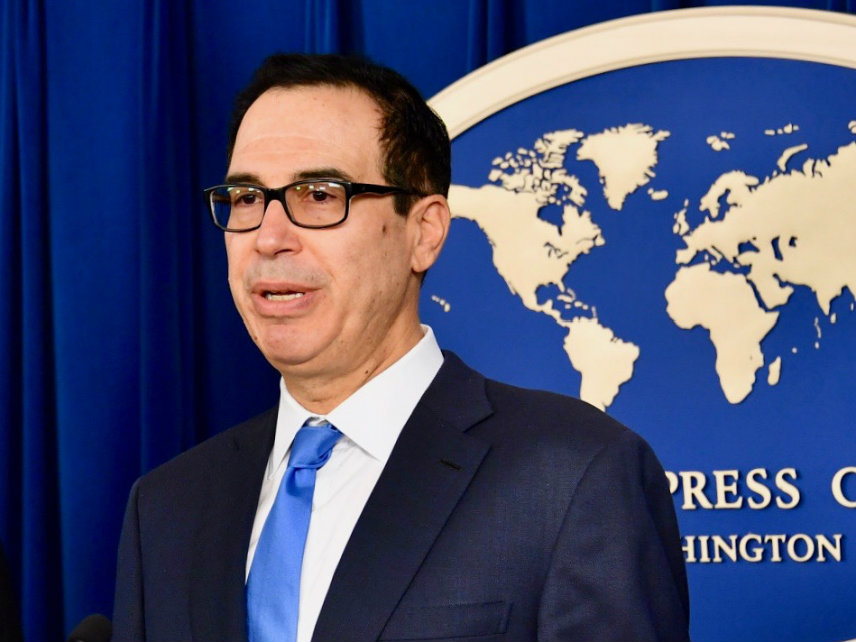 Treasury Secretary Steve Mnuchin is pushing behind-the-scenes for the White House to reduce its tariffs on China, and news of the effort appears to have sent the stock market soaring on Thursday afternoon.
The Wall Street Journal reports that Mnuchin has raised "the idea of lifting some or all tariffs" in a series of meetings as senior administration officials chart a course towards a crucial March 1 deadline in the ongoing trade spat between the United States and China. Mnuchin believes that reducing or eliminating some of the tariffs imposed last year may advance trade talks with China and could convince the Chinese government to make concessions—though other top trade officials, including U.S. Trade Representative Robert Lighthizer, remain unconvinced and worry that rolling back tariffs could be a sign of weakness, according to the Journal.
Atop a 25 percent tariff on imported steel and 10 percent tariff on imported aluminum, which apply to all nations, the Trump administration has slapped a 10 percent tariff on an estimated $200 billion of goods imported annually from China. Those Chinese tariffs were set to increase to 25 percent on January 1, but Trump decided in November to postpone the hike until March 1 in the hopes of reaching a trade deal with China in the early part of this year.
Those tariffs—which are really just taxes paid by American consumers and businesses—have already had an effect on the American economy. At the end of the third quarter, dozens of major American companies said trade issues and tariffs were red flags for future earnings. Worse may be coming. Over a full year, the tariffs will reduce gross domestic product, a short-hand measure for the overall size of the economy, by about $30 billion, while also depressing wages and costing more than 94,000 jobs, according to an analysis by The Tax Foundation.
If you need more immediate evidence of the impact of Trump's tariffs, just take a look at what happened to the Dow Jones Industrial Average in the two hours since The Wall Street Journal reported the slightest rumblings of tariff skepticism in the White House. The story went live online at 2:40 in the afternoon: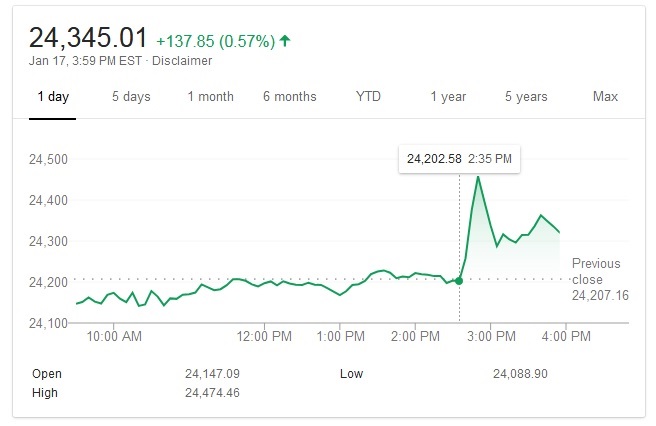 Sure, the exuberence didn't last, but that's not an insignificant rally for the Dow Jones—which, at 24,300, is still more than 600 points lower than where it was on March 1, 2018, when Trump launched the first volley of his trade war.
Lowering the tariffs will require convincing the "Tariff Man" himself that they are a bad idea, of course, but if Mnuchin is serious about making that argument, he just got more ammunition.