Florida State Commission Recommends Arming Teachers to Keep Schools Safe
Currently, most Florida public school teachers can't carry in the classroom.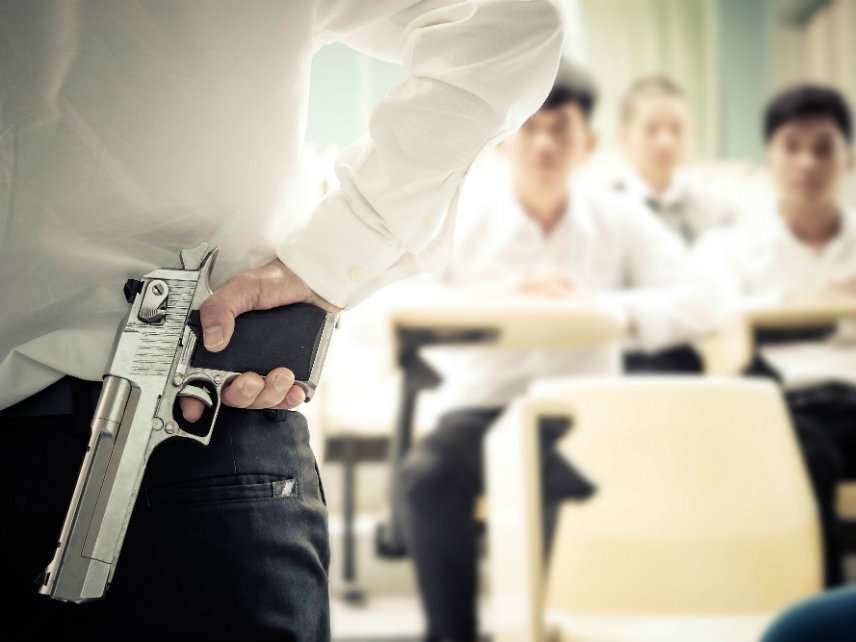 A Florida commission investigating last February's deadly Parkland school shooting has recommended allowing public school teachers to carry weapons in the classroom.
The Marjory Stoneman Douglas High School Public Safety Commission's report, released yesterday, includes lots of recommendations for stopping future school shootings. "All stakeholders—school districts, law enforcement, mental health providers, city and county governments, funding entities, etc.—should embrace the opportunity to change and make Florida schools the safest in the nation," it says. "There must be a sense of urgency—and there is not, across-the-board—in enhancing school safety."
One of those recommendations involves Florida's Coach Aaron Feis Guardian Program. The program, named for the Stoneman Douglas football coach who gave his life shielding students during the shooting, mandates that each public school in the state be protected by an armed guard—either a police officer or a "guardian." While administrators, security guards, and librarians can be trained as guardians, teachers cannot unless they are military members, former law enforcement, or ROTC instructors. Each school district in the state, the commission's report says, "should expand the guardian eligibility to other school employees now permitted to be guardians."
The report also encourages the state legislature to expand the program to include more teachers:
Further, the Florida legislature should expand the Guardian Program to allow teachers who volunteer—in addition to those now authorized—who are properly selected, thoroughly screened and extensively trained to carry concealed firearms on campuses for self-protection, and the protection of other staff and students in response to an active assailant incident.
Arming teachers to protect against school shooters is not a new proposal. As ReasonTV's John Stossel explained in April, allowing trained teachers to carry a gun in the classroom is a lot cheaper than stationing police officers at each school. More than a dozen states already allow teachers to carry in some form or another, and there are very few documented examples of students being hurt as a result.
But the proposal has run into opposition in the Sunshine State, where the Florida Education Association and the Florida PTA argue that arming teachers will simply increase the danger.
Pinellas County Sheriff Bob Gualtieri, chairman of the commission, doesn't think their opposition makes sense. "So what are we saying to people—we're not going to allow you to defend yourself, we're not going to allow you to defend the kids—why? Because of some ideology that we don't like guns? Anyone who thinks they're going to get rid of guns is crazy," he says, according to the South Florida Sun Sentinel. "It isn't going to happen. We've got to do something differently and people should be able to protect themselves."
Does arming teachers keep students safer? It's hard to tell, though an FBI report from April said that of the 50 "active shooter incidents" that occurred in 2016 and 2017, there were four examples of citizens with valid firearms permits stopping the shooter. It's also worth remembering that school shootings with mass casualties are very rare. Schools are generally safe whether or not teachers are armed.
The public safety commission's report proposes a bevy of other recommendations, including additional classroom safety measures. It also details some of the steps the Broward County Sheriff's Office and the school itself could have taken to either prevent the shooting or limit the death toll. The report has been sent to the governor's office and the state legislature for consideration.