Chicago Mayor Proposes Dealing Drugs, Gambling to Make Ends Meet
Rahm Emanuel wants pot legalization and a casino so the city can grab more taxes for its pension debts.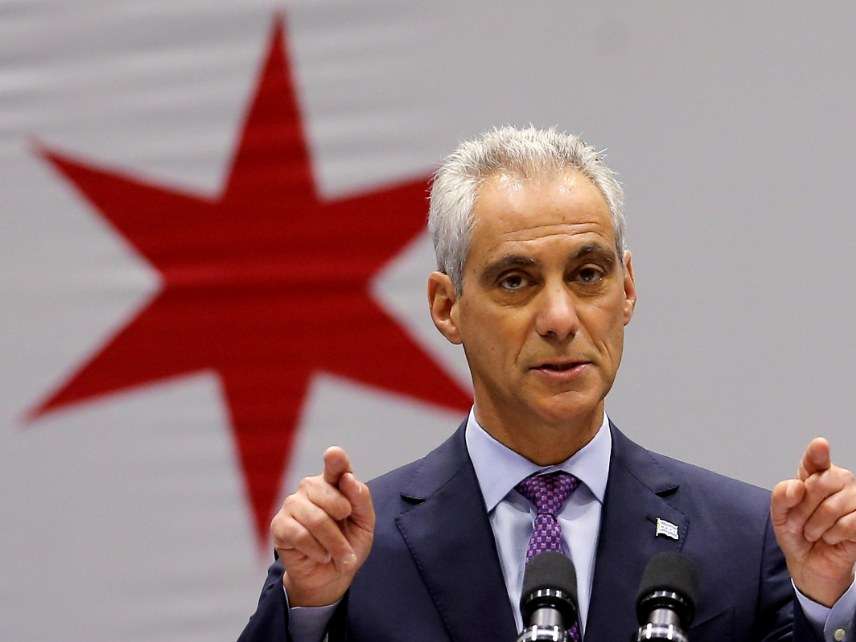 Tired: Then-Secretary of State Hillary Clinton declaring in 2011 that America shouldn't legalize drugs because "There is just too much money in it."
Wired: Chicago Mayor Rahm Emanuel explaining that Chicago must legalize drugs because they need the tax revenue to keep from going bankrupt.
Today, Emanuel, who is going to be stepping down rather than seeking a third term in office, is giving a speech to Chicago's City Council calling for the state of Illinois to legalize marijuana and a casino in his city. It is not because the mayor suddenly developed an interest in the right of Chicago citizens to do what they want with their bodies and money. Rather, Chicago is financially collapsing under the weight of its pension obligations to city employees, and it needs revenue badly. It's already taxing just about everything else it can get its hands on. The Chicago Tribune explains:
The mayor will propose that any tax money the city receives from the legalization of recreational marijuana be dedicated entirely to pensions and he'll do the same for any taxes generated by a long-sought Chicago casino, according to sources familiar with Emanuel's speech who were not authorized to discuss his plans publicly. The mayor also will move forward with requesting that aldermen consider setting up the structure to issue pension obligation bonds to help reduce the amount of money the city owes the retirement funds in the near term, the sources said.
So the revenue Chicago brings in from marijuana sales or gambling won't be used to bolster resources, build infrastructure, or put more police or firefighters out on the streets. All that money would go entirely to trying to keep the city's annual budget from being overwhelmed by skyrocketing pension debts.
And even that might not be enough. The city is going to need $276 million in new revenue in 2020 and $310 million in 2022 in order to properly fund employee pensions. To be clear there, that's the new revenue they need to find on top of already existing commitments. By 2023, the city is going to be having to pay $2.1 billion into its pension funds altogether. Emanuel's proposed budget for 2019 is $10.67 billion.
One of the other ideas Emanuel is floating to try to keep Chicago's budget from collapsing is borrowing $10 billion in bonds, directing that money into the pension funds, and hoping the investment returns on the bonds outpace the interest rates on the debt. Which: yikes! This is very much in the vein of trying to use one credit card to pay for another credit card bill. The Chicago Times diplomatically observes that financial experts describe such a plan as "risky." Borrowing in order to pay its pension debts is one of the many reasons why Detroit ended up going bankrupt in 2013.
What really needs to happen to stabilize Chicago's budget is for the city to scale back pension benefits. To be fair to Emanuel, he's been trying to do just that, but Illinois' constitution has a provision that has made it legally impossible for Chicago (and any other municipality in the state) to scale back any public employee benefits once they've been offered. Some efforts to pull back on employee benefits to try to save money have been struck down by the state's Supreme Court as unconstitutional.
Emanuel is therefore also proposing a change to the state's constitution to try to amend that clause to make it possible to scale pension benefits back before they bankrupt Chicago. His primary target appears to be a guaranteed annual 3 percent cost-of-living increase for retirees, even when inflation is non-existent and even when the city has to furlough or lay off working employees to balance the budget.
It's going to be a tough sell in a state where the public employee unions are essentially in charge. The amendment will require a three-fifths vote in the state's Democrat-controlled assembly. And then it goes to a public vote, and you better believe the state's public employee unions, who have fought tooth-and-nail against attempts to scale back retirement benefits, are going to mobilize.