This Man Was Released From Prison and Rebuilt His Life; Two Years Later He Got Sent Back Because of an 'Error'
Now writers, activists, and thousands of readers are calling on Trump to commute Matthew Charles' sentence.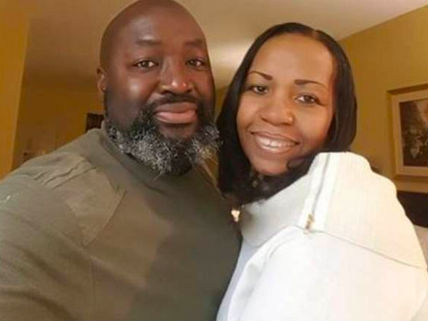 What do Kim Kardashian, Joy Reid, and The Federalist have in common?
They're all aghast at the case of Matthew Charles, a Tennessee man who was recently sent back to federal prison after two years of freedom when an appeals court ruled he had been released in error. Now criminal justice reformers and thousands of others are calling on President Donald Trump to commute Charles' sentence.
Charles was released early from federal prison in 2016, having served 21 years of a 35-year sentence for selling crack to a police informant. Federal prosecutors then appealed, arguing that, because Charles had been originally been classified as a "career offender," he was ineligible for the retroactive sentencing reductions put into place during the Obama presidency.
Despite a request from a federal judge asking prosecutors to drop their appeal, citing Charles' "undisputed rehabilitation," the U.S. Attorney's Office pressed on. A federal appeals court ruled that, by the letter of the law, Charles should never have been released from prison.
A widely-read story published Friday by Nashville Public Radio reported in stomach-wrenching detail Charles' last days of freedom, as family and friends said goodbye and Charles boxed up the small life he had managed to build on the outside. Earlier this month, he turned himself in to the U.S. Marshals and was sent back to a cage for another decade.
Charles was not a model citizen when he first arrived at prison. By his own account, he was right where he deserved to be. He had a serious criminal record including attempted murder and kidnapping. His crack cocaine sentence included an enhancement for illegally purchasing guns.
But as the article details, Charles found religion in prison, became a law clerk and GED instructor, helped illiterate inmates decipher court documents, and served 21 years of hard time without a single disciplinary infraction. After his release, he held down a steady job, volunteered every Saturday at a food pantry, reconnected with his family, and found a serious girlfriend.
Mark Holden, the general counsel of Koch Industries and a prominent criminal justice reform advocate, says Charles' case demonstrates the problem with mandatory minimum sentences.
"These one-size-fits-all approaches don't work in society, generally, and don't work in the criminal justice system, either," Holden says. "This case in so many ways sheds a light on it. You talk about a guy who did everything he was supposed to do while in prison, he turned his life around. Then he gets out, and he's been leading a great life and just doing all the things you want to see someone do, but now he's heading back to prison. It doesn't make any sense. By the letter of the law, they got it right, but it's completely unjust."
Charles' return to prison is so outrageously cruel and stupid that it has spurred condemnation across the political spectrum, from MSNBC host Joy Ann Reid to the conservative website The Federalist. Even Kim Kardashian tweeted about it.
Criminal justice reformers have been pushing the story to the White House in hopes of catching the attention of Jared Kushner, the adviser and Trump son-in-law who has made prison reform one of his top priorities.
A Change.org petition started by Families Against Mandatory Minimums is calling on Trump to commute Charles' sentence; it now has more than 10,000 signatures.
As it happens, Trump is holding a rally in Nashville tonight, and local supporters of Charles' are trying to catch Trump's attention.
"As President Trump visits Nashville this evening, I hope he will review the case of Nashville resident Matthew Charles who, after serving over 20 years in prison, was released," Republican state Sen. Steve Dickerson said in a statement today. "After living in Nashville as a model citizen, Mr. Charles is now being sent back to prison through no fault of his own. In no way is this justice, and I urge President Trump to commute Mr. Charles' sentence so he may continue to move forward with rebuilding his life."
The White House did not immediately respond to a request for comment.
Charles is hardly the only prisoner who has been rehabilitated and is a good candidate for commutation. In fact, federal prosecutors argued that Charles' case wasn't unjust or unique enough to warrant relief, because there were roughly 5,000 other federal inmates whose status as "career offenders" had led to them being denied early release.
"Indeed, the only thing that appears to distinguish Mr. Charles from others who were found to be Career Offenders years ago and who now show evidence of rehabilitation is that the vast majority of these individuals are still incarcerated while Mr. Charles was released from prison and, thus, had the opportunity to interact with society outside of prison," U.S. Attorney Donald Cochran wrote.
He may not have been making the point he intended to.