At Gov. Butch Otter's Request, Idaho Senator Goes to Crazy Lengths to Kill CBD Oil Bill
"The governor's office does not want to hear this bill....The state police do not want to hear this bill," committee chairman explains behind closed doors.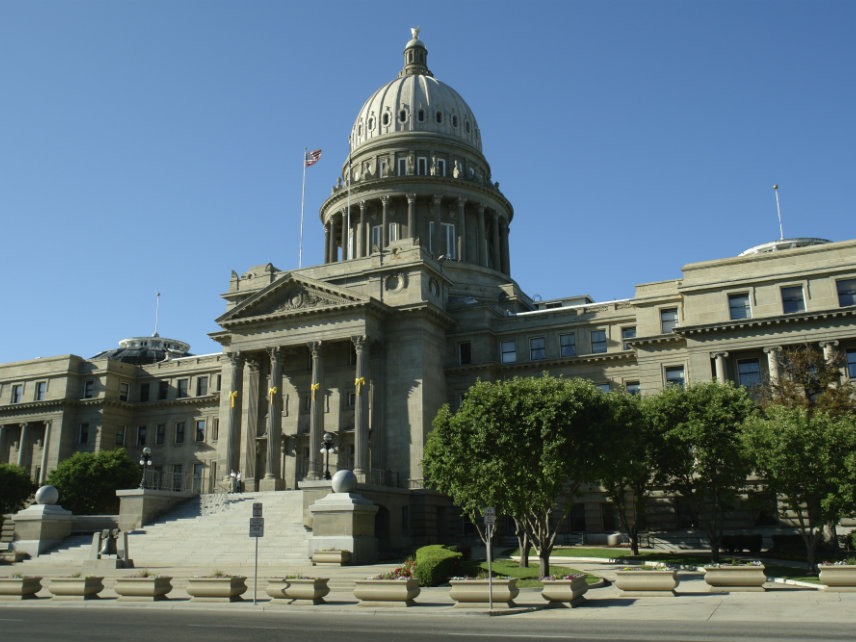 Drug warriors triumphed over another effort to legalize cannabidiol oil, a marijuana extract, in Idaho after a wild legislative committee hearing ended with a possible violation of the state's open meeting laws.
At an unscheduled closed-door meeting, state Sen. Lee Heider (R–Twin Falls), chairman of the Senate Health and Welfare Committee, was heard explaining that the bill could not pass because Idaho Gov. Butch Otter and other anti-marijuana influences in the state capitol did not want to see CBD oil legalized in the state.
"The governor's office does not want to hear this bill. The Office of Drug Policy does not want to hear this bill. The prosecutors do not want to hear this bill. The state police do not want to hear this bill," Heider can be heard saying on a recording made by Associated Press reporter Kimberlee Kruesi. Kruesi posted the audio clip on her social media accounts after the hearing.
"Unless they fire me as committee chairman, it will not be heard by my committee," Heider says on the tape.
Moments earlier, state Sen. Tony Potts (R-Idaho Falls) had called for the committee to consider the CBD oil bill, which passed the House with a 59-11 vote last week. Video obtained by Reason shows that Potts' motion was seconded and that Potts spoke in favor of the bill for about a minute before Heider cut him off, declared the committee to be "at ease," and asked the members to join him in his private office.
Doing so may have broken Idaho's open meeting requirements, according to Kruesi.
To recap:
- Potts made a motion to force hearing on CBD
- Potts gets gaveled, Heider calls for a private meeting
- Press blocked from attending
- Heider yells at committee
- Committee breaks up only after being reminded they were breaking the Open Meeting Law #idleg #idpol

— Kimberlee Kruesi (@kkruesi) March 5, 2018
"All meetings of any standing, select, or special committee shall be open to the public at all times," according to Idaho Senate rules.
Heider did not return calls for comment.
Whether it violated the law or not, the incident certainly demonstrates the absurd lengths that Idaho policymakers are willing to go to prevent CBD oil from being legalized there.
Made from the stalks of the cannabis plant—as opposed to coming from the flowers, or "buds," of the plant, like marijuana—CBD oil lacks high levels of tetrahydrocannabinol, or THC. So CBD does not produce the same feeling of being high that comes from smoking or eating cannabis products with higher concentrations of THC. In states where it is legal—and even in places where it is not—CBD oil is commonly used as a treatment for epileptic seizures that are not well controlled by more traditional medication.
As Reason reported in November 2016, it was for precisely that purpose that state lawmakers in Idaho first began exploring legalization of CBD oil during the 2015 legislative session. After the bill passed the state legislature, Otter vetoed it. Our reporting revealed a behind-the-scenes effort organized by the state's Office of Drug Policy to derail the CBD legislation.
Officially, the Office of Drug Policy is tasked with "providing policy, education, prevention and treatment resources" and works toward "an Idaho free from the devastating social, health and economic consequences of substance abuse" by funding anti-drug initiatives and overseeing substance abuse programs. Politically, the office serves as a nexus for the various special interests that favor the status quo of drug prohibition in Idaho, giving them a special place within the apparatus of state government.
Those special interests killed the CBD oil bill in 2015. To date, Otter is the only governor in the country to veto a CBD oil bill. Last year, the same special interests successfully derailed another attempt to legalize the drug. (Otter vetoed civil asset forfeiture reforms and licensing reforms within the past year too—he's fully abandoned any libertarian views he might have held as a young politician.)
Those same prohibitionist entities, no surprise, are the ones mentioned by Heider in his private meeting with the members of his committee.
"It's incredibly upsetting that a legislator would choose politics over people," says Dustin Hurst, communications director for the Idaho Freedom Foundation, a free market think tank that backs CBD legalization. "Sick and vulnerable Idahoans needed a champion in Lee Heider, but he utterly and completely failed them."
Idaho's opposition to even this very limited form of medical marijuana makes the state a major outlier. Since 2013, 17 states have legalized low-THC cannabis oil for limited medical purposes. Republican governors have signed 14 of those bills, including governors of such deep red states as Alabama, Mississippi, South Carolina, and even Utah.
While more than half the country has legalized marijuana for medical purposes and more states are moving to legalize the drug recreationally, Idaho remains steadfastly committed to a failed policy of prohibition.
Keeping CBD oil (and other medical cannabis products) illegal does real harm to the people who could benefit from using it. People like Josh Phillips, a high school wrestler who suffers from untreatable epilepsy. Phillips' story was at the center of Reason's 2015 feature about the fight over CBD oil in Idaho. It also doesn't help Katie Donahue, an Idaho resident who says she literally has prayed for death because she can't find a way to treat her seizures.
"I think we have to remember that we as legislators represent people. People who vote for us, people who are our neighbors, people who are our friends," says Potts. "There are a large amount of individuals who desire health benefits that come from this CBD oil."