Trump's Idea of 'Fake News' Is Much Broader Than His Awards Suggest
The president applies the term to any reporting that makes him look bad, regardless of whether it is accurate.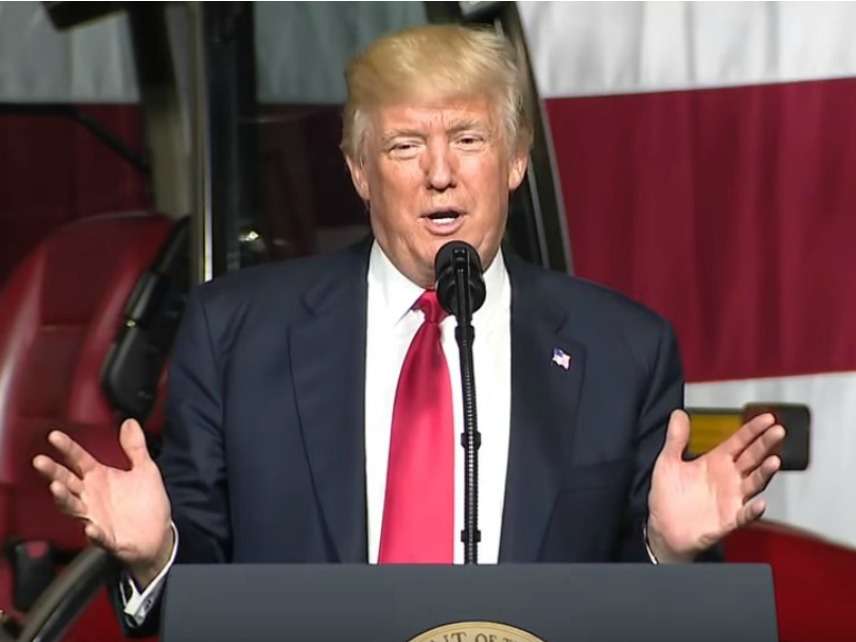 Last night the Republican National Committee announced Donald Trump's "Highly Anticipated 2017 Fake News Awards," most of which highlight bona fide errors of fact. In that respect, these examples are not representative of the way the president generally uses the phrase fake news, an epithet he applies to any reporting that makes him look bad, regardless of whether it is accurate.
Some of the mistakes highlighted by the RNC concerned trivial matters (Did Trump overfeed koi in Japan? Did the Polish first lady shake his hand?), while others were more consequential (Did Trump try to arrange contacts with Russian officials while he was running for president? Did the Trump administration suppress a climate report?). Three of the 11 selections involved tweets, one was an economic prediction in an opinion column, and almost all of the errors were promptly corrected. None was a deliberate hoax, the original meaning of "fake news."
Still, the list includes some egregious and embarrassing mistakes, two of which led to suspensions or resignations. It is plausible that the overwhelming hostility toward Trump at mainstream news outlets encourages mistakes that paint him in a negative light. If reporters were not primed to believe the worst about him, they probably would be more careful. In that regard, Trump has a legitimate beef. But verifiably false reporting is not the main thing he has in mind when he condemns "fake news."
This week, for instance, Trump complained that "the Fake News Mainstream Media never likes covering the great and record setting economic news, but rather talks about anything negative or that can be turned into the negative." In Trump's mind, accentuating the negative, even when it's true, is fake news.
So is coverage of allegations that Trump denies. In the same tweet, he declared that "the Russian Collusion Hoax is dead, except as it pertains to the Dems." The last item on the RNC's list of "fake news" items says "Russian collusion is perhaps the greatest hoax perpetrated on the American people," adding, "THERE IS NO COLLUSION!"
It is possible that neither Trump nor anyone in his campaign collaborated with Russian agents to undermine Hillary Clinton and boost his election prospects. But as long as a special prosecutor and congressional committees are investigating the issue, the press has no choice but to cover it, no matter how many times Trump cries hoax, even when he puts his objections in capital letters and adds an exclamation point.
As far as Trump is concerned, any mention of Michael Wolff's best-selling White House tell-all Fire and Fury ("a Fake Book by a mentally deranged author"), including articles that try to distinguish between the author's credible reporting and his more dubious claims, also qualifies as fake news. Likewise stories that quote unnamed sources, mentions of Trump's low approval ratings, articles that describe former FBI Director James Comey's report of a conversation with the president or a congresswoman's accurate account of a telephone call between Trump and a soldier's widow, and what Trump views as inadequate attention to the stock market, his "incredible year," or "how Big and how Strong our BASE is."
Trump's loose use of the "fake news" label may hearten his supporters and sow doubt about the credibility of his critics, but it also undermines his legitimate complaints about unbalanced and sometimes inaccurate reporting. This self-sabotage is part of a broader problem: Trump's blatant disregard for the truth has played no small role in building the expectations that shape coverage of him.
Here is a guy who spent years questioning whether Barack Obama was born in the United States, who invented millions of illegal ballots to explain his loss in the popular vote tally, and who habitually brags that everything he is associated with is the biggest and the best. When that guy suggests that bomb threats to Jewish institutions across the country, cited as evidence that his election had fostered a rise in anti-Semitism, might not be what they seem, why would anyone take him seriously? Yet last March the Israeli police announced that they had arrested the person they believed was behind the vast majority of those threats, and it turned out he was an Israeli Jew.
Trump has discredited himself to the point that his statements are automatically dismissed even when he happens to be right. That is a problem for him, but it is also a problem for us.