Humanizing the Struggle at the Oslo Freedom Forum in New York
Triumphal stories and a commitment to fight on for individual freedom worldwide.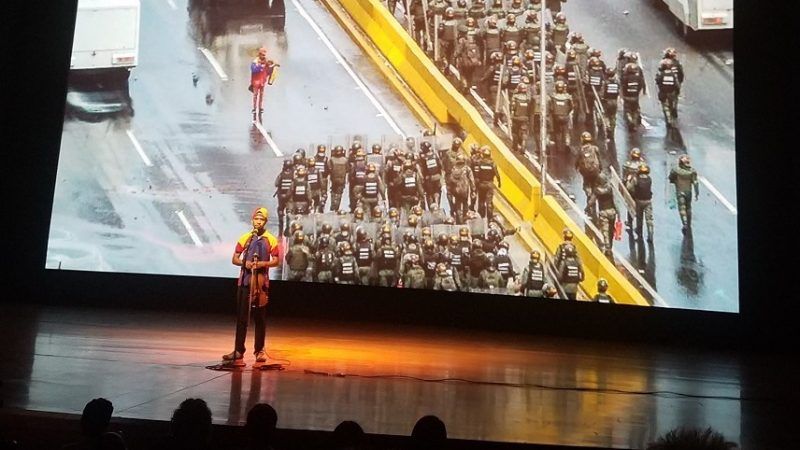 "Some of our speakers don't live through the year because they're executed, or they're assassinated," Oslo Freedom Forum founder Thor Halvorssen told an audience at Alice Tully Hall in New York.
The conference—a smaller version of an eight-year-old international event variously described as "the Davos of dissidents" and "a bit like Comic-Con, only all the heroes are real"—coincided with the United Nations General Assembly session a short distance away. At a pre-conference reception, Garry Kasparov, the Russian chess master and opposition activist, took note of the meeting of tyrants on one side of Manhattan and the meeting of freedom champions on the other. Somehow, he quipped, freedom always seems to be in the West.
Halvorssen said that one goal of the one-day New York conference last week was to "humanize the struggle" of freedom fighters and freedom seekers; indeed, it brought together people with very different stories and struggles.
North Korean defector and human rights activist Ji Seong-ho, now in his early thirties, survived the famine of the 1990s. He lost his left hand and foot in 1996 after being run over by a train while scavenging for coal to trade for food, and endured grueling surgery without anesthesia.
A decade later, on wooden crutches, he and his brother made a 6,000-mile trek through China, Laos, Burma and Thailand to escape to South Korea. Ji's raw, emotional account in Korean, in a sometimes-breaking voice—aided by photos on a big screen, such as the schoolroom by emptied famine—told a powerful story even though I had forgotten to get a translation headset.
Ji's story ended in finding freedom and in being made whole by modern medicine and prosthetics. No translator was needed for his final triumphant gesture, holding up the crutches he no longer needed. But it is also a story of unfinished work: Ji's activism on behalf of those still trapped under North Korea's hellish regime.
The coexistence of the harrowing and the upbeat, of victory and never-ending battle at devastating cost was a central, if unspoken, theme of the Freedom Forum.
Iranian-born author Marina Nemat, now living in Canada, was arrested in 1982, at the age of 16, for criticizing the Islamic revolution in the school newspaper; she was tortured in prison and sentenced to death. (Her life was spared largely to the intercession of a guard to whom she was forcibly married.)
Russian democracy activist Vladimir Kara-Murza not only lost a close ally and friend, Boris Nemtsov, to assassination but was himself the target of two apparent poisonings that left him comatose and near death. Kara-Murza spoke in flawless, almost unaccented English of the yearning for freedom in Russia, a country often stereotyped as craving the whip. He spoke of the risks taken daily by critics of the Putin regime, of political prisoners—now numbering about a hundred, comparable to the late Soviet period—and Nemtsov's murder ("when smears and threats fail, they use bullets as their final argument").
Kara-Murza recalled his "first conscious political memory" at the age of ten: the Soviet hardliners' coup in August 1991, when Russians, including his father, "not armed with anything except their dignity and their determination to defend their freedom," were able to stop the coup leaders who had everything, from the mass media to tanks, at their disposal.
The activism of Somali-born Leyla Hussein, now a psychotherapist living in England, is driven by a much more gruesome childhood experience: the genital cutting she suffered at the age of seven, together with her younger sister. "I started to campaign against [female genital mutilation] not because I thought it was wrong; I wanted to protect my daughter," Hussein said. She is co-founder of the non-profit Daughters of Eve and author of a much-discussed television documentary on FGM in England, The Cruel Cut.
Hussein said she has been threatened and physically assaulted for her activism, which some see as offensive to religious and cultural values. Because of safety concerns, she has had to move twice with her young daughter and currently lives at an undisclosed address, with a panic alarm at home.
(Unfortunately, Hussein marred a compelling tale with a brief, but obnoxious detour into modern grievance feminism: a mini-rant about "systemic oppression" of women in the West by sales taxes on feminine hygiene products. Why not complaints about North Korean refugees in the West enduring the injustice of white cultural appropriation of Asian food?)
Wuilly Arteaga, a slightly built 23-year-old Venezuelan musician who became famous for playing the violin at the recent street protests in Caracas, wowed the audience with his music and his story, told in Spanish through an interpreter.
Raised in a poor family, Arteaga was self-taught before joining El Sistema, the government-funded music education system. State largesse did not buy his obedience. He was near tears recounting his ordeal at the hands of the chavista security forces: arrest, brutal beatings that left him deaf in one ear, his violin smashed. Yet he considers himself "fortunate" compared to fellow protesters who were killed or are still imprisoned.
Maria Toorpakai Wazir, a 26-year-old Pakistani squash player, grew up in a conservative tribal region, dressed as a boy to play sports, and then had to hide from the Taliban after she began to compete openly as a female. She told a remarkable tale with humor and love—especially for her father, who encouraged his wife and two daughters to be independent.
Harvard psychologist and author Stephen Pinker made an unapologetic plea for "Enlightenment values," for "reason, science, humanism, progress," the last of these a "gift" for embracing the first three. He illustrated the reality of 200 years of progress with graphs showing the astounding gains in human health and longevity as well as prosperity, freedom, safety and peace—despite two world wars, AIDS in Africa in the 1980s and the growth of modern authoritarianism in Russia and Turkey.
"Despite lamentations that democracy is in recession … the world has never been more democratic than it is today," Pinker said, noting that most of the world's population now lives under governments that are "more democratic than autocratic." For all the exceptions, he concluded, "we see that the arc of history bends toward justice—too slowly, but it is going in the right direction."
A few moments later, after Pinker had ended his speech, an Oslo Freedom Forum promotional video appeared on the screen with a cautionary note that "more than half of the world's population—52 percent—lives under authoritarianism."
It was not the forum's only moment of paradox. Wazir pointedly criticized Myanmar's de facto head of state, Aung San Suu Kyi, for indifference to the persecution and massacres of the country's Rohingya Muslim minority. She echoed calls for Suu Kiy's Nobel Peace Prize to be revoked. Yet only five years ago, Suu Kiy headlined the Oslo Freedom Forum's San Francisco conference—its first event in the U.S.—receiving the Human Rights Foundation's Václav Havel Prize for Creative Dissent.
Apparently, anti-liberal backsliding can affect a person and a country.
The New York forum—the organization's third event in the United States—was also shadowed by concerns that freedom in America itself is being set back. At the opening reception, Kasparov noted dryly that in Donald Trump, "Americans are now experiencing a very small taste" of the authoritarianism Russians and others have dealt with.
He quickly followed that there's a big difference between "someone who acts like an authoritarian on Twitter" and someone who is able to act like an autocrat in real life. Kasparov expressed confidence that the American political system was resilient enough to rein in Trump's dangerous tendencies. Still, he pointedly recalled Ronald Reagan's statement that "freedom is never more than one generation away from extinction."
This optimism steeled with vigilance perhaps best summed up the spirit of the Oslo Freedom Forum in New York.