Rural Senators and Private Jet Operators Threaten Air Traffic Control Reform
The Senate apparently wants to leave the current out-dated, needlessly expensive FAA system in place.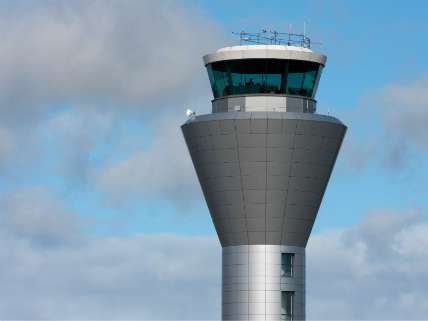 A bi-partisan group of senators is attempting to scuttle reform with a Federal Aviation Administration reauthorization bill that leaves the agency in charge of America's costly and outdated air traffic control system.
Much of the blame for this quick retreat rests with the National Business Aviation Association (NBAA)—which represents the business jet operators who benefit immensely from the current broken system—and its well-funded effort to lobby rural lawmakers, Bob Poole, Director of Transportation Policy at the Reason Foundation (the non-profit that publishes this website) says.
The NBAA has spent $750,000 on lobbying, hiring three different lobbying firms in the first quarter of 2017 alone to make their case directly to Congress.
Business jet operators, are getting "a pretty sweet deal," Poole says. "[They] pay a tiny fuel tax that amounts to…one percent of the total aviation tax revenue that goes to FAA," while using up to 15 percent of air traffic control services.
The NBAA has also covertly mobilized rural mayors and pressured rural senators to block changes to the current system with front groups like the Association for Aviation Across America (AAAA), Poole says. Among them is Sen. John Thune, (R-S.D.), chairman of the Commerce, Science, and Transportation Committee, who said there was not sufficient support in his committee to privatize air traffic control.
In numerous policy briefs and open letters, the AAAA (chaired by NBAA president Ed Bolen) has peddled the claim that air traffic control reform would decimate rural air service by empowering big airlines to spend resources at only the most profitable urban hubs.
The House version of FAA reauthorization (which includes air traffic control reform), however, requires air traffic control service to be maintained for rural airports, Poole says. The House bill also gives smaller regional airlines who service those rural airports the same voting power in its proposed independent air traffic control corporation as larger commercial airlines.
By keeping the FAA in charge of operations, these senators are leaving in place a bad model "that every other civilized country has eliminated by separating air traffic control from safety regulation," Poole says.
Poole has since the 1970s advocated, in the pages of Reason and on Capitol Hill, spinning off air traffic control into an independent, non-profit corporation managed by industry stakeholders and funded by user fees, not tax dollars.
About 60 countries have already adopted this model. In early June President Trump kicked off his "Infrastructure Week" throwing his support behind air traffic control reform. That was followed up by a House FAA reauthorization bill which closely follows Poole's model for reform.
Even people responsible for running the air traffic control system have gotten behind the idea.
"Five or six former Secretaries of Transportation and the current one, Elaine Chao, all support this. All three of the people who have been in charge of running the FAA's Air Traffic Organization…say we've got to do this," says Poole.
Poole also mentions the example of NavCanada, Canada's privatized air traffic control system, whose charter requires it to service numerous airports in vast rural north of the country. Canada's private air traffic control system has also been able to adopt new and safer technology far quicker than the FAA.
Air traffic control reform might still survive the Senate, Poole says. The House version of the bill has the support of several Democrats on the Transportation Committee, as well Republican Rep. Sam Graves of Missouri, who had previously been opposed to the idea.
Only a system independent of FAA management and congressional appropriation can bring U.S. air traffic control into the 21st century, Poole says.
"You can't run this thing as a high-tech business, which it's supposed to be," he says, "under the constraints of government budgets and congressional micromanagement."