Lady Gaga Halftime Drone Show Was Pre-Taped Due to FAA Regulations
FAA regulations thwart progress on drone use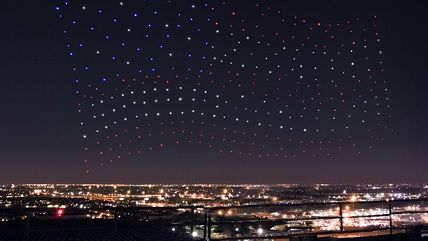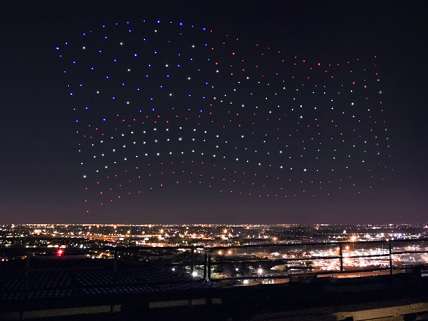 Viewers who stuck around for last night's Super Bowl half-time show got to see a first—a synchronized drone routine at the start of the Lady Gaga performance, with 300 Intel Shooting Star drones executing complex maneuvers over the stadium.
Unfortunately, because of Federal Aviation Administration (FAA) regulations, the drone display was pre-taped. The FAA actually made the area more than 34 miles surrounding the stadium a no-drone zone between 4pm and midnight on game day. Wired reports that Intel and show organizers were able to acquire other exemptions from the FAA that made the feat possible at all. Those exemptions were for regulations such as those requiring operators maintain visual contact with their drones or that limit how high drones can fly (400 feet), as The Verge reported.
The FAA rolled out registration rules concerning personal drones at the end of 2015—requiring, retroactively, that owners of all drones weighing more than about half a pound be registered. As of last summer nearly half a million people registered as drone owners. The registration requirement is currently being challenged in court. The FAA also put out new regulations last summer—dropping a requirement for mandatory federal approval of small drones for commercial use, but adding the line-of-sight rule that, as Wired notes, is preventing adoption of drones for tasks such as search and rescue and operations in other zones into which it's dangerous to send people. Rules elsewhere are less strict. As Eric Boehm noted when reporting on last summer's FAA regulations, it's already possible to have pizza delivered to your home by drone, if you live in New Zealand.
Check out Reason TV's 2013 segment on the Drone Boom: