California Becomes 32nd State to Pass "Right to Try" Law for Terminally Ill
Terminally ill patients in Golden State will now be able to legally use medicines not yet out of the FDA's approval process that might help them.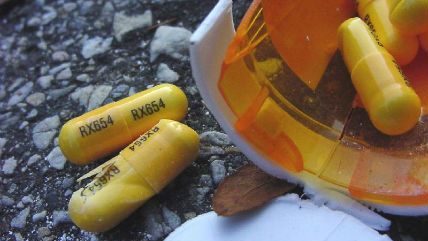 Arizona's Goldwater Institute has been the national leader in promoting "right to try" legislation, which allows terminally-ill Americans to legally try medications that have passed just Phase I of the Food and Drug Administration's (FDA) approval process but are not as yet legally available via doctors. Passing Phase I means that the agency is at least satisfied that the medicine can be used safely.
Today the Institute announces that, with a bill signed into law by California Gov. Jerry Brown, that state becomes the 32nd state to pass a version of that law. Brown had vetoed a similar law last year. The Institute's press release notes that "Right To Try is limited to patients with a terminal disease that have exhausted all approved treatment options and cannot enroll in a clinical trial. All medications available under the law must have successfully completed basic safety testing and be part of the FDA's on-going approval process."
KPCC radio's website has more details on the California politics:
Patients must meet a number of requirements to qualify for the program, including that they have only a matter of months to live and that two doctors recommend they try the experimental drug.

The passage of the measure caps a two-year effort by Calderon. Last year, Brown vetoed similar legislation Calderon authored. The governor said he did so because he first wanted to see whether changes in the FDA's Compassionate Use program reduced the minimum 30-day wait for experimental drugs.

And while the feds did streamline some parts of that program, patient wait times remained the same, the bill's supporters say.
Alex Manning's Reason TV video on the right-to-try movement: