Trump Campaign Manager Implies the FBI Might Be Cooking Crime Stats to Make Hillary Clinton Look Good
Is this the first post-reality campaign?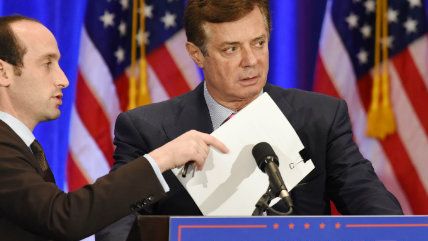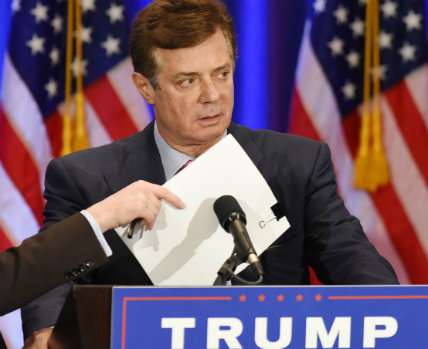 Here's how far off the deep end Donald Trump's campaign has gone: In an interview tonight, Campaign manager Paul Manafort dismissed the notion that violent crime has fallen by suggesting that the Federal Bureau of Investigation's (FBI) crime data couldn't be trusted in light of the agency's recent recommendation not to prosecute Hillary Clinton over her use of a private email server while serving as Secretary of State.
While he didn't quite come out and say it, he basically suggested that the FBI may be lying about crime stats in order to protect Hillary Clinton. It's nuts. 
A leaked copy of the complete text of Donald Trump's big convention speech made clear that he would focus heavily on fears of crime. Trump's speech begins by warning that the Republican National Convention "occurs at a moment of crisis for our nation." Trump's main promise is to restore safety and order to the nation. I have a message for all of you," Trump's speech text says. "The crime and violence that today afflicts our nation will soon come to an end. Beginning on January 20th 2017, safety will be restored."
So when Manafort appeared on CNN tonight to preview Trump's speech, Jake Tapper asked how he could reconcile Trump's dark portrayal of crime in America with the reality that violent crime has been steadily dropping for 25 years, according to FBI statistics.
Now, Manafort could have responded by saying that homicides have risen in some cities in the last year or so. In a normal campaign, that's what he would have done, and that would be it.
Instead, he chose to cast doubt on the FBI's stats themselves. "People don't feel safe in their neighborhoods. I'm not sure what statistics you're talking about," he said, before adding: "The FBI is certainly suspect these days after what they just did with Hillary Clinton."
This is the end result of Trump's adamant refusal to ever admit that he could be wrongIt's not enough to just cherry pick evidence. Instead, Manafort has to imply that the FBI might somehow be in league with Trump's political opponent. 
These stats aren't new. They've been consistent for more than two decades. So unless Manafort is suggesting that the FBI has been conspiring with the Clintons for a quarter century to cook the crime stats in order to make her and her husband look good…actually, I think that might be what he's hinting. 
This is the sort of sketchy nonsense that passes for a response in the Trump campaign these days. Some of it, as in this case, is vaguely conspiratorial. Some of it is just bizarre.
Earlier this week, after reports that part of Melania Trump's convention speech was plagiarized from a 2008 speech by Michelle Obama, the Trump campaign's immediate response was to flatly deny that this had happened.
Manafort declared that the story was Hillary Clinton's fault, saying in a press conference that "when Hillary Clinton is threatened by a female, the first thing she does is try to destroy the person." Manafort also shrugged off the accusations, saying that Melania's speech merely used "common words." Trump campaign spokesperson Katrina Pierson gave an equally bizarre response, insisting that no plagiarism had occurred and saying, "This concept that Michelle Obama invented the English language is absurd." (For the record: No one was suggesting that Michelle Obama invented the English language.)
A Trump organization speechwriter, of course, eventually admitted that parts of the speech had been plagiarized.
I have written before about how Republicans have entered a post-policy era. Trump, however, may be the first to run a post-reality campaign.