De Blasio Campaign Finance Scandal Illustrates Root of Money in Politics Problem
Federal and state investigators reportedly probing donations by seller of garbage bags.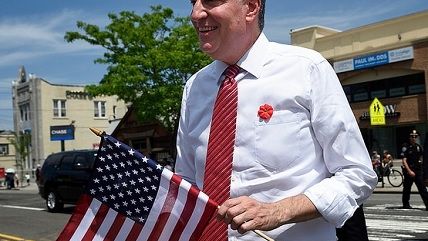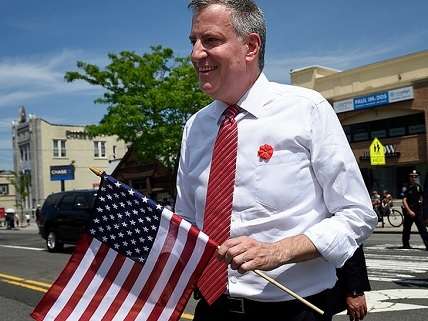 A donor to New York City Mayor Bill de Blasio who is under state and federal investigation got his trash bags into the hands of city officials after making a six-figure donation to Campaign for One New York, a political fundraising operation for de Blasio that was closed amid scrutiny that it did not have to follow city campaign finance laws, the New York Post reports.
Last month a state board found "flagrant" campaign finance violations by de Blasio's fundraising team during the 2014 state legislative elections. Throuh a spokesperson, de Blasio insisted at the time everything was done "in accordance with the law at all times."
The donor identified by the Post, Joseph Dussich, runs a company, JAD Corp. of America, that makes mint-flavored garbage bags that are supposed to repel rodents and insects. That company, according to the Post, received a $15,000 no-bid contract for the city to try the bags out that is being investigated by federal authorities. The contract came after Dussich made a $100,000 donation.
The city decided to use the "Mint X" bag in all its parks. JAD lost a bid to sell the bags directly to the city, but will sell them to the company that won the $6 million contract instead. According to the Post, the bags account for half of that contract.
The apparent relationship between de Blasio's city government and Dussich and his company reveal a pernicious aspect of money in politics often omitted in critiques of campaign finance that seek to limit the free speech end of the transaction. If Dussich wanted to spend $100,000 to advocate for the election of de Blasio, or even to spend it on a "non-profit" as he did, he ought to be free to do so without fear of legal repercussion.
Reducing the influence of money on politics requires limiting the government's ability to spend other people's money, not limiting people's ability to spend their own. The 2016 election is littered with examples (Jeb!) of well-funded campaigns going nowhere or stumbling against smaller ones. Fearmongering over the amounts of money Americans spend to participate in political speech shifts attention away from the kinds of government spending (most of it) that provides the opportunity for types like de Blasio and his various hangers-on to profit off government, with or without any additional influence.