Reason Live Tweets the Democratic Debate
Join us for chat and analysis of the Sanders-Clinton face off in Milwaukee on PBS/CNN.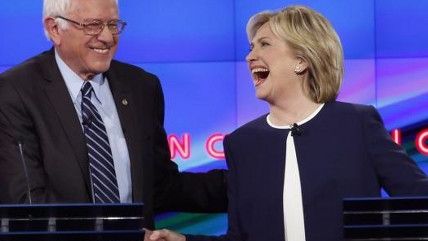 UPDATE: The debate is over. Here's some post-debate blogging for your delectation:
Bernie Sanders Promises to Reduce Prison Population, Misses the Simple Solution of Not Fucking With People: Acknowledging the role of the democratic will of the people and democratically-enacted laws in problems with policing would require taking responsibility, by Ed Krayewski
Bernie Sanders' Best Moments Tonight Were on Foreign Policy: Sanders took on Clinton's record on regime change, and he had some things to say about Henry Kissinger too, by Jesse Walker
And here's everything you need to know about what happened to the debate in 90 seconds.
***
PBS NewsHour co-anchors and managing editors Gwen Ifill and Judy Woodruff will moderate the faceoff between the last Dems standing: Bernie Sanders and Hillary Clinton. You can catch the PBS livestream here.