Election Déjà Vu: Is Trump the New Giuliani?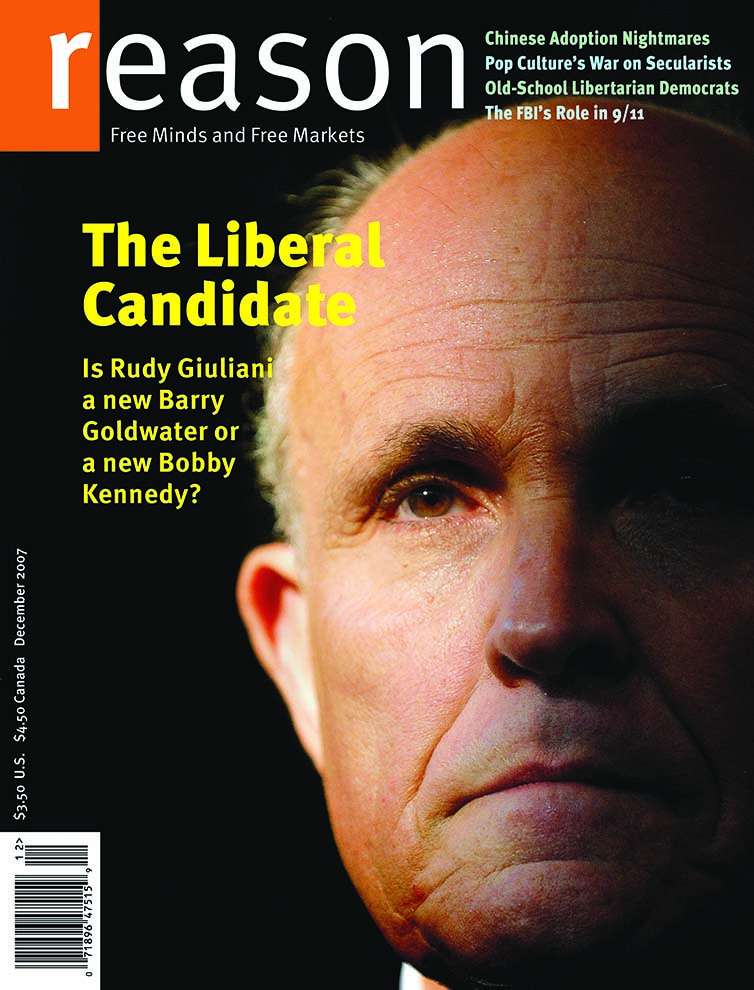 Eight years ago, former New York City Mayor Rudolph Giuliani enjoyed a handsome lead in Republican presidential primary polling. This September, real estate mogul and reality TV celebrity Donald Trump had an even more commanding lead, despite a larger field of candidates.
As David Weigel reported in "The Liberal Candidate," reason's December 2007 cover story, Giuliani's interest in politics was first sparked watching Robert Kennedy, then a lawyer, questioning Teamster president Jimmy Hoffa at a 1957 Senate hearing. By 1964, as a Bobby-inspired Democrat attending Manhattan College, Giuliani was writing columns railing against Republican presidential nominee Barry Goldwater, whose view of government he found "coldhearted" and "standoffish." Later, at the U.S. attorney's office for the Southern District of New York, he made a name going after Wall Street types. "Giuliani's office was relentless," Weigel wrote. "Feds appeared at the offices of indicted traders to put them in handcuffs, marching them to court as their colleagues gawked."
Giuliani learned to play the media in his bid to build a public image that he could sell to voters. After he left the U.S. attorney's office in 1989, The New York Times wrote that New Yorkers had "seen enough to hope that one day he'll return to public service." That was the year Giuliani first ran for mayor, losing to David Dinkins in a close race. He defeated Dinkins in 1993 and won a landslide re-election in 1997. The attacks on the World Trade Center on September 11, 2001, offered Giuliani a chance to reintroduce himself to the American public.
Trump was once a Democrat, too. And while he's been talking about running for president since the 1980s, the billionaire doesn't have a political career to campaign on, let alone one as "America's mayor." But like Giuliani, Trump knows how to use the press.
The celebrity businessman has maintained leads in New Hampshire, Iowa, and South Carolina, the first three primary contests of 2016, for most of the summer, even though he holds numerous positions at odds with the Republican base. (Trump calls for higher taxes, and at the first GOP debate he defended the concept of universal health care.) He has attacked immigrants, major corporations, Sen. John McCain, Fox News' Megyn Kelly, and fellow presidential hopeful Carly Fiorina. Four months out from the Iowa caucuses, none of this has made much of a dent in Trump's poll numbers.