Clock Kid Deserves an Apology, Not $15 Million. And He's Wrong About His Victim Status.
Zero tolerance, rather than racism, is the prime culprit in Ahmed Muhamed case.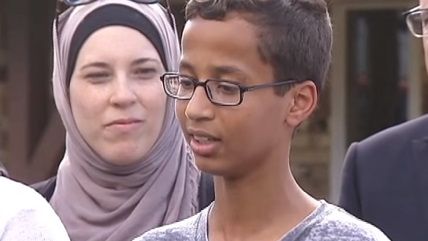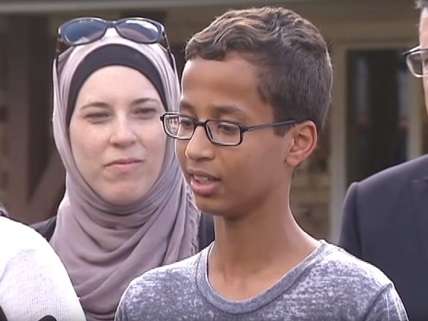 "Clock kid" Ahmed Muhamed was a victim of paranoia about violence in schools and, perhaps, some ugly ethnic assumptions. He has asked for an apology, and he deserves it.
He does not, however, deserve $15 million.
Attorneys for Mohamed, 14, and his family want $15 million in damages and apologies from several officials stemming from Mohamed's September 14 arrest, when he brought to school a homemade clock that a teacher flagged as a possible bomb. …

Demand letters issued by Mohamed's attorneys on Monday sought $5 million from the Irving Independent School District and $10 million from the City of Irving in addition to written apologies from the Irving ISD and the city's mayor and police chief.

The letter to Irving ISD alleges several violations of school policy, including that employees "disregarded the district's written policies and procedures by detaining, interrogating and attempting to coerce a confession from Ahmed." The letter also claims Mohamed suffered "severe psychological trauma" and was harassed by officials.

The letter to the City of Irving asserts that Mohamed's constitutional rights were violated.

"Let's face it, if Ahmed's clock were 'Jennifer's clock,' and if the pencil case were ruby red bedazzled with a clear rhinestone skull and crossbones on the cover, this would never have happened," the letter states.
This last point is certainly false. As I have explained numerous times, kids of every color and creed are routinely mistreated by school officials and police officers for making gestures, holding items, and playing with others in a perfectly safe, healthy, reasonable manner. Here's a partial list of students disciplined for dubiously disrupting public safety in school:
Muhamed's lawyers claim "Jennifer" would never have been detained over a skull-and-crossbones pencil case; this assertion is just flatly wrong. Remember the white kid who was suspended and arrested for wearing an NRA T-shirt? Remember about Alan Holmes?
Clock kid should get his apology, but he should also get a dose of reality: he is not the first victim of overzealous policing in schools, nor is the injustice committed against him among the most egregious I've ever seen.