Chris Christie Claims Black Lives Matter Want Murder of Police, John Kerry in Israel, Comet Lovejoy Releases Alcohol: A.M. Links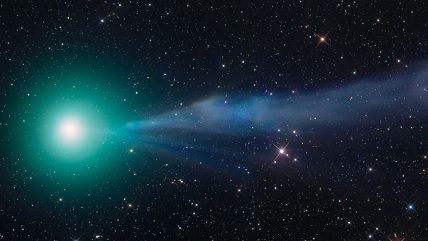 NASA

On the campaign trail, Chris Christie claimed President Obama didn't "support" police and that Black Lives Matter protesters called for the murder of police officers.

John Kerry is in Israel trying to ease tensions; Palestinians have been stabbing Jews over the fear that Israel will permit non-Muslims to pray at the Temple Mount in Jerusalem.
The United Auto Workers labor union and General Motors have tentatively agreed to a new four-year contract that would prevent a strike.
A presidential and parliamentary election was held in Haiti, but it will take some time to count the votes.
Comedian Jimmy Morales won the presidential election in Guatemala.
A magnitude-7.5 earthquake in Afghanistan killed at least 40 people.
NASA has detected Comet Lovejoy giving off up to 500 bottles of wine's worth of alcohol a second.
New at Reason.com: