Pope Francis' Address to Congress May Not Have Been What 'Climate Justice' Activists Were Hoping For
The pontiff stopped far short of laying out a concrete environmental policy agenda.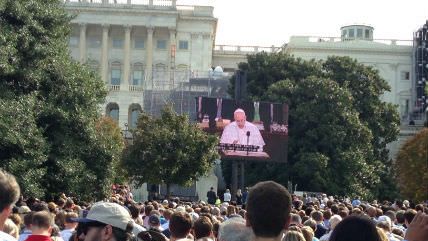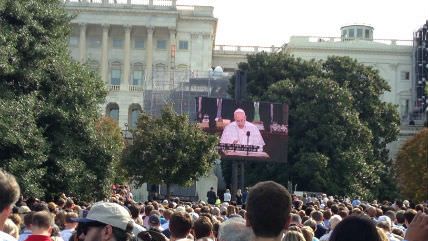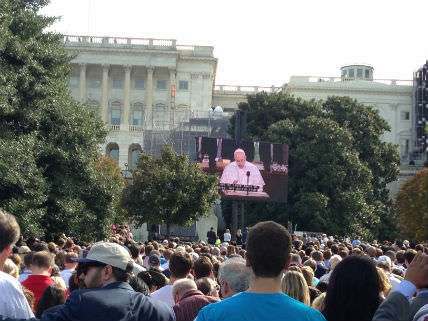 Heading into today's historic address by Pope Francis to a joint session of Congress—the first time a pope has ever given a speech to the House and Senate at the U.S. Capitol building—no one was quite sure what to expect. But most onlookers, if they've been paying attention to the pope's writings and remarks, probably figured he would talk about the need to protect the environment. Some people were so convinced he would make an impassioned appeal to lawmakers to do something about climate change, they organized an event on the Mall around it, plastering "Rally with Pope Francis for moral action on climate change" flyers all over Washington, D.C.
But actually, watching from the West Lawn I was struck by how minimal and non-politicized his treatment of environmental issues was. Here is basically the only place in his 50-minute speech that he spoke about that topic (these quotes are taken from the prepared remarks):
This common good also includes the earth, a central theme of the encyclical which I recently wrote in order to "enter into dialogue with all people about our common home" (ibid., 3). "We need a conversation which includes everyone, since the environmental challenge we are undergoing, and its human roots, concern and affect us all" (ibid., 14).

In Laudato Si', I call for a courageous and responsible effort to "redirect our steps" (ibid., 61), and to avert the most serious effects of the environmental deterioration caused by human activity. I am convinced that we can make a difference and I have no doubt that the United States – and this Congress – have an important role to play. Now is the time for courageous actions and strategies, aimed at implementing a "culture of care" (ibid., 231) and "an integrated approach to combating poverty, restoring dignity to the excluded, and at the same time protecting nature" (ibid., 139). "We have the freedom needed to limit and direct technology" (ibid., 112); "to devise intelligent ways of… developing and limiting our power" (ibid., 78); and to put technology "at the service of another type of progress, one which is healthier, more human, more social, more integral" (ibid., 112). In this regard, I am confident that America's outstanding academic and research institutions can make a vital contribution in the years ahead.
Note that nowhere in those two paragraphs does the pope lay out a concrete program of policy reforms he wants enacted. He says we should be trying to "redirect our steps," but he isn't specific about what that might involve. He talks about the need for "actions and strategies" but doesn't describe for us what they might be.
In my long piece on Pope Francis and capitalism from earlier this week, I pointed out that dissecting his words is made more difficult from a libertarian perspective because he often blurs the line between private vs. public action. That's the case here as well. One moment, he's telling us he's certain Congress has a role to play, implying he favors changes in federal law. But the next moment he's talking about America's universities and what a "vital contribution" he hopes they'll make. That suggests he understands that technological development is the key to creating a future in which high levels of material well-being are the norm—and to getting there without destroying the planet.
This is already happening. We've cut the global deforestation rate in half even as nearly a billion people were being lifted out of extreme poverty. The so-called "Green Revolution" made it possible to produce enough food to support billions of people using less land than previously thought possible, and the future of food production is continuing to change in ways that may be hard for us right now even to fathom. Life is getting better (and much of the planet is getting cleaner) not because of stricter regulatory regimes but because of scientific advancements and economic development.
We can debate the extent to which R&D should be funded by taxpayers as opposed to private industry. At least we're on the same page in recognizing that the type of drastic government interventionism supported by many on the left isn't the only possible route to a solution.