Rick Perry Joins Fellow Republicans in Condemning Donald Trump's 'Offensive' Comments About Mexicans
Meanwhile, Ted Cruz praises Trump as a brash truth teller.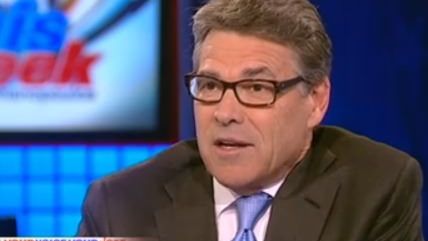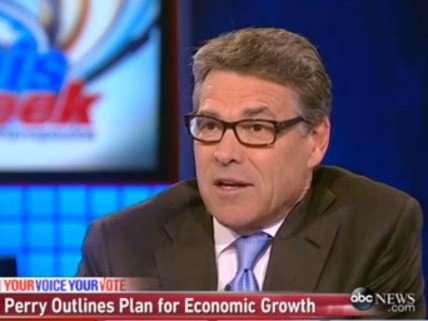 In an interview on ABC's This Week yesterday, former Texas Gov. Rick Perry joined former Florida Gov. Jeb Bush, Sen. Marco Rubio (R-Fla.), and New Jersey Gov. Chris Christie in condemning Donald Trump's ugly, idiotic comments about Mexican immigrants. "Donald Trump does not represent the Republican Party," Perry told George Stephanopoulos. "I was offended by his remarks. Listen, Hispanics in America and Hispanics in Texas, from the Alamo to Afghanistan, have been extraordinary people, citizens of our country and of our state. They have served nobly. And to paint with that broad a brush that Donald Trump did is—I mean, he's going to have to defend those remarks. I never will. And I will stand up and say that those are offensive, which they were."
Bush, who had previously said Trump was "wrong" to describe Mexican immigrants as drug dealers, criminals, and rapists, on Saturday said the billionaire buffoon's "extraordinarily ugly" comments were "way out of the mainstream" and "not reflective of the Republican Party." Similarly, Rubio on Friday called Trump's insult "inaccurate," "offensive," and "divisive." The previous day Christie said "the comments were inappropriate and have no place in this race."
Lest you think that Trump's stupidity has united the 100 or so Republicans who are seeking their party's presidential nomination, Sen. Ted Cruz (R-Texas) differs with Bush, Rubio, Perry, and Christie on this point. "I like Donald Trump," Cruz said last week. "I think he's terrific. I think he's brash. I think he speaks the truth." Just to remind you, this is the brash truth telling that got Trump into trouble:
When Mexico sends its people, they're not sending their best. They're not sending you. They're not sending you. They're sending people that have lots of problems, and they're bringing those problems with us [sic]. They're bringing drugs. They're bringing crime. They're rapists. And some, I assume, are good people.

But I speak to border guards, and they tell us what we're getting. And it only makes common sense. It only makes common sense. They're sending us not the right people.