The Year the Crusade Against 'Rape Culture' Stumbled
The movement capitalized on sympathy for victims of sexual assault to promote gender warfare, misinformation, and moral panic.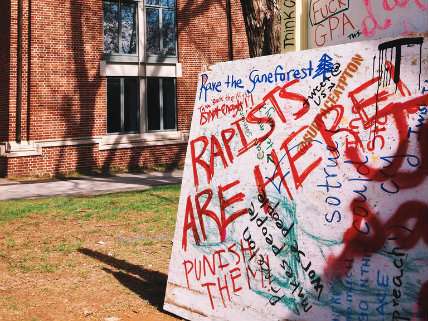 December has not been a good month for the feminist crusade against the "rape culture."
The Rolling Stone account of a horrific fraternity gang rape at the University of Virginia, which many advocates saw as a possible "tipping point"—a shocking wake-up call demonstrating that even the most brutal sexual assaults on our college campuses are tacitly tolerated—has unraveled to the point where only a true believer would object to calling it a rape hoax.
At first, when investigative reporting by The Washington Post revealed major holes in the story, activists as well as feminist commentators chastised those who were too quick to declare it discredited. Just because Rolling Stone screwed up its reporting, they said, doesn't mean that Jackie was not sexually assaulted or that her complaint was not neglected by the university. Just because Jackie changed her story, they insisted, doesn't make her a liar—merely a likely rape victim whose trauma-fogged memory caused her to get some details wrong. (Her story, let's not forget, had changed from being forced to perform oral sex on five men to being vaginally raped by seven men, punched in the face, and cut on shattered glass.) "The man that Jackie describes, named 'Drew' in the story, is a real person on campus," wrote leading feminist pundit Amanda Marcotte, referring to Jackie's date who supposedly brought her to a fraternity party and lured her into a rape trap. "He just happens to belong to another fraternity on campus. Which means that, while there's a chance she's lying, there's also a very big and very real chance that this all happened and she just forgot what frat house it was at."
Now, it turns out "Drew"—or "Haven Monahan," the name Jackie originally gave her friends—doesn't seem to exist after all, on the UVA campus, anywhere in the United States, or probably anywhere on the planet. His name is straight out of a particularly cheesy romance novel; his photo, which Jackie's friends got in text messages, turned out to match a former high school classmate of hers who goes to a different college. It also looks like Jackie made up both "Haven" and the sexual assault he supposedly engineered in an attempt to get the romantic attention of Ryan Duffin, one of the friends she called for help that night. Tellingly, her lawyer has not commented on these revelations. The only alternate explanation is that Jackie is the victim of a diabolically clever frame-up by her ex-friends.
Assuming Jackie is a fabulist, one can debate how much blame she deserves. It's clear she's a troubled young woman, and somewhat in her defense she did not falsely accuse any actual men (though it certainly seems that she falsely accused her former friends, two men and one woman, of treating her brutal rape as a minor unpleasantness far less important than invitations to frat parties). It is also clear that she was exploited by author Sabrina Rubin Erdely, and arguably Rolling Stone too, in pursuit of a sensational story. But some of the blame must go to the movement that encouraged her in turning her fantasy of victimhood into activism—especially when that movement is so entrenched in its true-believer mindset that some of its adherents seem unable to accept contrary facts. Katherine Ripley, executive editor of the UVA student newspaper, The Cavalier Daily, continued to post #IStandWithJackie tweets for days after the "Haven Monahan" story broke. Two other UVA students made a video thanking Jackie for "pulling back the curtain" on campus rape and praising her "bravery."
Meanwhile, even as the UVA saga unfolded, the "women's page" of the online magazine Slate, Double X, published an outstanding long article by liberal journalist Emily Yoffe examining the excesses of the campus rape crusade—from the use of shoddy statistics to hype an "epidemic" of sexual violence against college women to the rise of policies that trample the civil rights of accused male students. The piece was retweeted nearly 2,500 times and received a great deal of positive attention, partly no doubt on the wave of the UVA/Rolling Stone scandal. Some of Yoffe's critique echoes arguments made earlier by a number of mostly conservative and libertarian commentators. But, apart from the extensive and careful research she brings to the table, the fact that these arguments were given a platform in one of the premier feminist media spaces is something of a breakthrough, if not a turning point.
Just days after the publication of Yoffe's article, the Department of Justice Bureau of Justice Statistics released a new study boosting her case (and based on data she briefly discussed). The special report, "Rape and Sexual Assault Victimization Among College-Age Females, 1995–2013," shows that not only are female college students less likely to experience sexual assault than non-college women 18 to 24, but the rate at which they are sexually assaulted is nowhere near the "one in five" or "one in four" statistics brandished by advocates. The National Crime Victimization Survey (NCVS), from which the BJS derives its data, found that approximately 6 out of 1,000 college women say they have been sexually assaulted in the past year. Over four years of college, economist Mark Perry points out, this adds up to about one in 53. Still a troubling figure, to be sure, but it does not quite bear out claims that the American campus is a war-against-women zone.
Journalists who embrace the narrative of campus anti-rape activism, such as The Huffington Post's Tyler Kingkade and Vox.com's Libby Nelson, have tried to rebut claims that the new DOJ report discredits the higher advocacy numbers. Kingkade asserts that the NCVS "doesn't look at incapacitated rape," in which the perpetrator takes advantage of the victim's severe intoxication or unconsciousness. Nelson argues that because the survey focuses on crime victimization, respondents may underreport acquaintance rapes which don't fit the stereotype of the stranger with a knife jumping out of the bushes.
But neither criticism holds up. The standard question used in the NCVS to screen for sexual victimization is, "Have you been forced or coerced to engage in unwanted sexual activity by (a) someone you didn't know before, (b) a casual acquaintance? OR (c) someone you know well?" In other words, respondents are explicitly encouraged to report non-stranger sexual assaults—and, while they are not specifically asked about being assaulted while incapacitated, the wording certainly does not exclude such attacks.
Kingkade also suggests that the numbers are beside the point, since the effort to combat campus sexual assault is about people, not statistics—specifically, "about students who said they were wronged by their schools after they were raped." Of course every rape is a tragedy, on campus or off—all the more if the victim finds no redress. But if it happens to one in five women during their college years, this is not just a tragedy but a crisis that arguably justifies emergency measures—which is why proponents of sweeping new policies have repeatedly invoked these scary numbers. (Sen. Kristen Gillibrand, Democrat of New York, has now had the one-in-five figure removed from her website.) And while the stories told by students are often compelling, it is important to remember that they are personal narratives which may or may not be factual. Only last June, Emily Renda, a UVA graduate and activist who now works at the school, included Jackie's story—under the pseudonym "Jenna"—in her testimony before a Senate committee.
Of course this is not to suggest that most such accounts are fabricated; but they are also filtered through subjective experience, memory, and personal bias. Yet, for at least three years, these stories been accorded virtually uncritical reception by the mainstream media. When I had a chance to investigate one widely publicized college case—that of Brown University students Lena Sclove and Daniel Kopin—for a feature in The Daily Beast, the facts turned out to bear little resemblance to the media narrative of a brutal rape punished with a slap on the wrist.
Now, in what may be another sign of turning tides, the accused in another high-profile case is getting his say. The New York Times has previously given ample coverage to Emma Sulkowicz, the Columbia University student famous for carrying around a mattress to protest the school's failure to expel her alleged rapist. Now, it has allowed that man, Paul Nungesser, to tell his story—a story of being ostracized and targeted by mob justice despite being cleared of all charges in a system far less favorable to the accused than criminal courts. No one knows whether Sulkowicz or Nungesser is telling the truth; but the media have at last acknowledged that there is another side to this story.
Will 2015 see a pushback against the anti-"rape culture" movement on campus? If so, good. This is a movement that has capitalized on laudable sympathy for victims of sexual assault to promote gender warfare, misinformation and moral panic. It's time for a reassessment.