Charters Kicked Out
De Blasio strikes back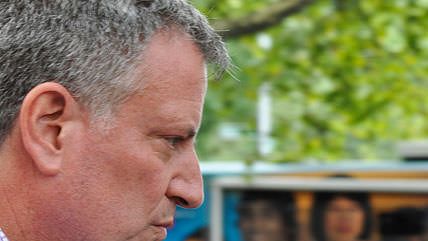 In New York City, it is common for schools to share a building, or "co-locate," to save money in the high-rent city. But on February 27, the city's newly elected mayor Bill de Blasio reversed the Bloomberg administration's decision to allow three Success Academy charter schools to co-locate with public schools. Without a building, these schools cannot open next year.
Success Academy, which was featured in the 2010 documentary Waiting for Superman, is a particularly successful chain of independently run schools: 82 percent of its students met city math standards, compared to 30 percent citywide. Applications greatly exceed available spots. Most of the students are black or Hispanic and come from poor neighborhoods.
"You're stopping one of the best charter schools with the highest grades," Dyreeta Donahue, mother of a Success Academy student, told Reason TV. "That just doesn't make sense. If the school was failing, then I would understand."
Stifling charter schools was one of De Blasio's popular campaign promises, applauded by unions and parents who believe charter schools are diverting funds from public institutions. The tension stems from a broader ideological war between traditional public school and school choice advocates.
Despite local setbacks and petty political battles, parents are lining up across the country for choice. In Albany, the New York state capital, 11,000 demonstrators gathered to protest de Blasio's decision. Success Academy plans to file legal complaints against the city Department of Education.