Republicans' Women Strategy: Less Policy, More Patronizing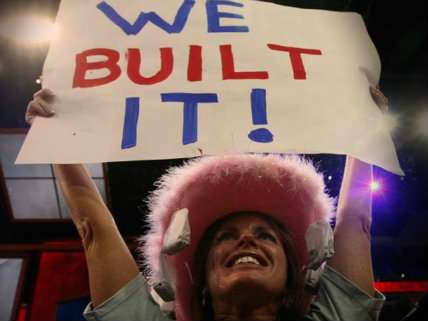 An NPR piece today dissects the GOP's "attempt to appeal to women." It's not doing Republicans any favors.
The efforts, according to Republican National Committee (RNC) Press Secretary Kirsten Kukowski, began after Mitt Romney lost the women's vote to Barack Obama by 11 percentage points in the 2012 election. Since then, the RNC and other big Republican groups have been working together to better engage with women voters, she says.
Burning Glass Consulting firm was hired explicitly to help Republicans message to women. Here's an ad, "Dear Daughter," that Burning Glass created to this aim. Note that it doesn't really say how Republicans will address issues relevant to women, but it does direct complaints about Obama to a hypothetical daughter. (GOP messaging tip #1: Ladies like when you acknowledge that the female sex exists.)
McMorris Rodgers, who heads the House Republican Conference, says Republicans talking to women need to remember to put policy prescriptions in terms of how they will effect women's families. (GOP messaging tip #2 Less facts, more emotion.)
Katie Packer Gage, head of Burning Class Consulting, tells NPR that if Republicans want women to listen, "they need to stop bombarding them with data and focus on day-to-day concerns. Don't talk about energy; talk about gas prices. Don't talk about Obamacare; talk about getting to see your doctor." (GOP messaging tip #3: Women are myopic idiots.)
Gage tells candidates, "If you can demonstrate some compassion for people in general, even if it isn't specific to women, women respond to that." (GOP messaging tip #4: Don't be sociopaths.)
The RNC has also launched an initiative, "14 in '14," which involves sending Republican women ages 21 to 40 door-to-door in swing states to talk with other women. It's perhaps the one part of the RNC's women strategy that seems well-conceived, as long as it can keep female volunteers far away from the GOP messaging strategists.