Ohio State University Gets Armored Military Vehicle, Repeatedly Dodges Questions About It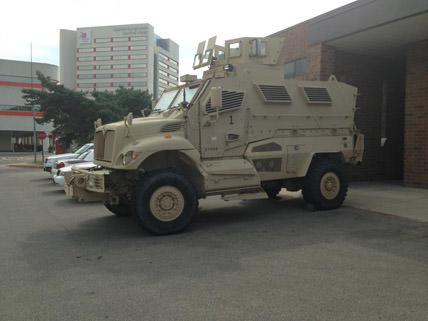 Ohio State University campus police (OSU PD) recently acquired what appears to be a Mine-Resistant Ambush-Protected (MRAP) vehicle to add to their fleet. Several attempts to contact the university have garnered little information about why a vehicle, which was specifically designed for asymmetric warfare, is needed on campus.
The Daily Caller was first to report on the story. They contacted Gary Lewis, OSU's senior director of media relations, who boasted that "OSU's campus cops are 'the first agency in the state to acquire such a vehicle'." However, he and the OSU PD dodged specific questions about the armored vehicle.
I called the campus police and redirected to Deputy Chief of Police Richard Morman, who did not answer. I was informed that Chief of Police Paul Denton was also unavailable. After calling five numbers down OSU's public relations masthead, manager Jane Carroll answered.
"It's already noon," she informed me, "which to be totally realistic, [makes] it a really tall order" to get any details. I said I had several specific questions, and was told someone would call back.
Instead, communications director Lindsay Komlanc sent a generic email.
She wrote that "we already use the same type of vehicles borrowed from other law enforcement agencies at major events," which seems to contradict Lewis' claim about being the first agency in the state to own one.
Komlanc also insisted that OSU PD have been "involved in responding to active shooting situations in the Columbus area as well as on campus." However, the extent of OSU PD's involvement in any active shooter situation has likely been limited, since the only recent shooting was in 2010, when a janitor shot his supervisor and then himself before officers were on the scene. Additionally, the effectiveness of an MRAP in such a situation remains unclear, as a Secret Service report says that shootings are usually resolved in under 15 minutes. Likewise, long before acquiring the bomb-proof vehicle, the OSU PD repeatedly stated that it is prepared for an active shooter situation.
The email explained that the vehicle is also needed for natural disaster relief. Komanc cited past events that would have benefited from the MRAP, such as tornado that occurred at OSU's Wooster campus, which is nearly 100 miles away from where the 14-ton, 11-mpg vehicle is actually stationed. Again, the school contradicts itself, as OSU PD asserted long before they got the MRAP that they were prepared specifically for the disasters Komanc mentions. Also, numerous reports show that the entire state of Ohio is among the safest places from all shades of natural disasters.
Among the questions that remain unanswered is whether any the campus police are qualified to operate an MRAP. Even the Marine Corps, which requires personnel to get specific training and a unique license for the vehicle, encountered many problems ranging from specialized mechanical knowledge for maintenance, to frequent rollovers, and the inability to "pursue the enemy off-road, in confined areas, or across many bridges."