NFL Bans Purses and Backpacks, Limits Fans to One Gallon-Sized Baggie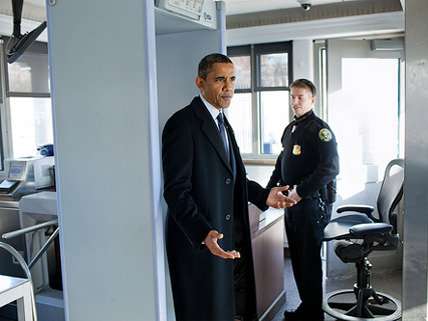 With one month until the kickoff of the 2013 season, the NFL may be turning into the new TSA.
The National Football League's heightened security measures, announced this week, have similarities to the methods implemented in airports and elsewhere by the Department of Homeland Security (DHS) and the Transportation Security Administration (TSA). In fact, DHS gave the NFL its stamp of approval for the new strictures.
From plastic baggies to metal detectors, the NFL's precautions will make football fans feel like harassed airline travelers. Those measures, explains security expert Bruce Schneier, are "often are nothing more than security theater, making people feel safer without actually increasing their protection."
"To provide a safer environment" in light of tragedies like 9/11 and the Boston Bombing, the NFL now prohibits ticket holders from setting foot in the games while carrying backpacks, purses, fanny packs, seat cushions, and many other items.
Although "the NFL strongly encourages fans to not bring any type of bags," the league concedes that each fan will be permitted to carry a single transparent bag that does not exceed 12"x6"x12". The new measures were tested this Sunday at the Hall of Fame game in Canton, Ohio.
"I had to hide my purse under a concrete barrier," said fan Brooke Cantu.
"Public safety is our top priority," insists Jeffrey Miller, NFL vice president and chief security officer in an official announcement. "This will make the job of checking items much more efficient and effective," he adds. In addition to bag checks, a secondary perimeter will be set up around stadiums so that security can make preemptive moves to stop contraband items from entering the premises.
"Will teams be making money from selling team identified bags to fans?" asks the NFL's FAQ. Yes. Fans can purchase "an inexpensive Ziploc bag," a gallon bag with "no commercial identification," or ones with the team logos. Although no price is stated there, the NFL's online store lists a variety transparent bags ranging from $9.95 to $12.95.
Although some teams allow small amounts of food or bottled water, there is no league-wide policy. Nevertheless, throughout the NFL, fans pay an average of over $7 for beer and nearly $5 a piece for soft drinks and hot dogs, after spending nearly $80 on tickets, according to a study by CNBC.
Citing poor "in-stadium experience," a similar study by NBC finds that attendance has dropped at NFL games by 4.5 percent since 2007.
Since 2001, the NFL has progressively beefed up security measures. The league claims has moved from visual inspections to item bans, increasingly thorough pat-downs and metal detector screenings. "This security posture has been certified by the Department of Homeland Security," boasts NFL security representative and former FBI agent Vince delaMontaigne "it's the only league that has this."
Security is both a feeling and a reality, and the two are different things. People can feel secure when they're actually not, and they can be secure even when they believe otherwise.
This discord explains much of what passes for our national discourse on security policy. Security measures often are nothing more than security theater, making people feel safer without actually increasing their protection.