Obama, Karzai Discuss Afghanistan Drawdown at White House Press Conference
Short on specific numbers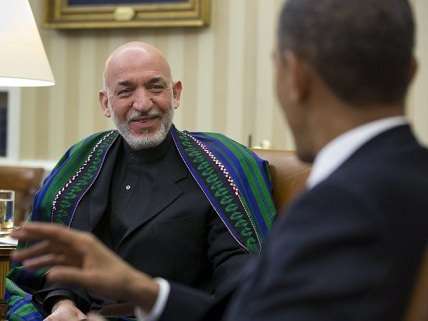 President Barack Obama and his Afghan counterpart, Hamid Karzai, met at the White House today as plans emerged for a possible complete withdrawal of U.S. troops at the 2014 deadline. The meeting came with an announcement that a drawdown of U.S. troops would actually begin this spring, with U.S. forces moving into a "support role."
"What that translates into precisely… is something that isn't yet fully determined," the president said in response to a question about how fast the drawdown would be or how many troops might remain after 2014. Obama did say that what comes after 2014 "is a very limited mission [training and assisting Afghan forces and hunting down remnants of Al-Qaeda and its affiliates] and it is not one that would require the same kind of footprint, obviously, that we've had in Afghanistan over the past ten years."
For his part, Karzai told reporters it wasn't for Afghanistan to decide those specifics. "It's an issue for the United States," he said. "Numbers are not going to make a difference to the situation in Afghanistan. It's the broader relationship that will make a difference to Afghanistan and beyond in the region."
The major sticking point appeared to be immunity for U.S. troops, which Obama noted is something U.S. troops enjoy everywhere they're stationed. Apparently, if immunity is granted, the U.S. presence in Afghanistan is envisioned, at least by Karzai, to be like the U.S. presence in Germany or Turkey.
Despite the talking today, the U.S. and Afghanistan have already entered a broad agreement keeping U.S. troops in Afghanistan for a decade past 2014. As recently as two months ago, one Marine General told Congress troops would certainly have to stay past 2014 to present a "clear and compelling narrative of commitment" in Afghanistan. It appears administration officials would like to keep 10,000 U.S. troops in Afghanistan past 2014.
The president sidestepped a question about whether the war in Afghanistan was worth the cost in blood and treasure, talking instead about why the U.S. went to war and how the U.S. was able to "decapitate" Al-Qaeda, while Karzai doubled down on his assertion that corruption in his country is largely due to foreign influence.
Of note, while the Afghan president discussed how he would have to sell the idea of immunity and U.S. presence in Afghanistan to the Afghan people, there was no mention of the American people's, or even Congress', say on the future role of the U.S. in Afghanistan.