First Parent-Triggered Charter School Clears Final Hurdle
Local board approves takeover for failing California elementary school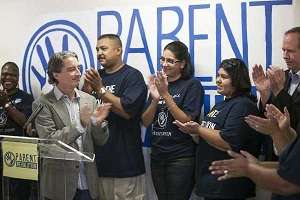 After nearly two years of fighting the district that's supposed to serve them, parents in Adelanto, Calif., succeeded Tuesday night in turning Desert Trails Elementary into a charter school. It's the first successful implementation of the California law passed in 2010 allowing parents to force a school district's hand and select a charter program to take over a failing school. And Desert Trails was definitively failing, falling among the bottom 10 percent of California schools.
Beau Yarbrough at The (San Bernardino) Sun reports:
The Adelanto Elementary School District voted 4-0 to approve the petition submitted by Debra Tarver, who operates the LaVerne Preparatory Academy in Hesperia.

In October, the Desert Trails Parent Union announced they'd selected Tarver to take over Desert Trails Elementary School, where three-quarters of students are unable to read and write up to standards, according to state testing scores. They used California's "parent-trigger" law, which allows groups who collect signatures from more than 50 percent of parents to imposing sweeping changes on the school, to force the district to relinquish control of the campus after the current school year comes to an end.

LaVerne Preparatory Academy received a 911 out of 1,000 Academic Performance Index score this fall, one of the highest in San Bernardino County, where the schools got an average 767 API. Desert Trails got a 699 this year, down 13 points from the year before.
I wrote a brief summary of the Adelanto takeover battle for the February issue of Reason magazine (on stands now).
A lawmaker in the State of Georgia is now looking to introduce parent-triggered takeovers there as well, which has resulted in the typical response from teachers unions. Via the Atlanta-Journal Constitution:
"This is a betrayal of the public," said Verdalia Turner, president of the Georgia Federation of Teachers. "It has nothing to do with what good research says is needed for a child to learn. Not a damned thing. You can quote me on that. It has everything to do with putting public funds in private hands."

Turner said more charter schools in Georgia will simply be an opportunity for for-profit charter school companies to make money.
"The public" in Georgia notably approved a constitutional amendment in November to allow the state the power to approve charter school applications over the objections of local boards. "The public" has been consistently voting in favor of more school choice, not less.