Scott Brown Wants Libertarians To Vote For Him, Too!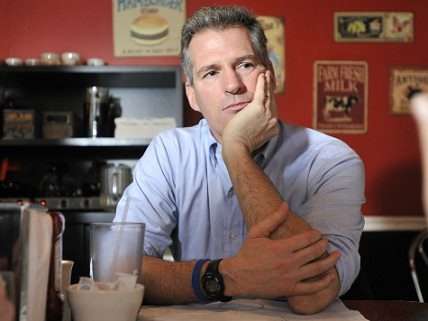 HAVERHILL, Mass. – Inside Mark's Deli, Senator Scott Brown works the handful of patrons present during his unpublicized visit.
"Hi, how are you? Good to see you."
While watching Brown shake hands and chat with the staff it's easy to see how Brown climbed from the board of assessors in Wrentham to the U.S. Senate. He's a natural at retail politics.
Outside the diner, though, Brown is in the electoral fight of his life with Harvard professor Elizabeth Warren. In order to win, he needs a quarter of the state's Democrats, and the majority of Massachusetts' independents. Among those registered independents ("unenrolled," in Massachusetts-ese) are a smattering of libertarians.
So, how is Brown going to win over them?
"I am going after every vote," Brown told me. "Going after people from the Republican Party, Democratic Party, Independent Party, Libertarian Party, and, quite frankly, people that just like to party," said Brown before getting called over by his wife Gail Huff to pay the tab for lunch, which included his daughter Adrianna and Sen. Kelly Ayotte.
"[Elizabeth Warren] is going to raise taxes $3.4 trillion, she's going to increase regulations, and I have been trying to work very hard—never voted for tax increase in 15 years of elected office, and I respect the individuality and value of all Americans," he said.
"I've been down there trying to solve problems. I've been working in a bipartisan manner to try to move our country forward. There's a vanishing breed of moderate independents like me. Democrats and Republicans, you got Kent Conrad, Olympia Snowe, Joe Lieberman, and Richard Lugar, they're leaving. That vanishing breed in the middle, they're trying to get us to go away and not be players within the extremism down there. There's extremes on the left and the right and why would you send another person who has an extreme agenda?" Brown asks before elaborating the differences between him and Warren.
"You want a big government person, you send down her. You want somebody that recognizes there is a role for government and that government sometimes needs to get out of the way and be a junior partner, then you vote for me. Pretty simple," he said.
Brown has had a busy morning in the Merrimack Valley. He led a rally with supporters in Lowell with Ayotte and congressional candidate Jon Golnik before stopping here for lunch. After closing paying tab he's heading south to Foxborough for the Patriots game.
He adds one more thing before departing.
"What you see is what you get with me. We may not agree on everything, the libertarians, they may look at me and say, 'I didn't like this vote and I didn't like that vote,' but they're gonna have a very really choice and I can't win it without you guys. You want me to be your 75-80 percent friend, versus your 100 percent enemy, which is what she's gonna do. There's no libertarian that has anything in common with any of her policies. Name one? Name one. There's none."