How the National Institute for Drug Abuse Helped Create the Dangerous Marijuana Alternative Known As "Spice"
More than a decade after NIDA spent an unreported amount creating Spice, the Drug Enforcement Administration spent millions destroying it.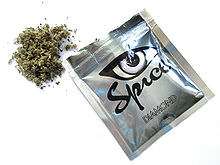 A top priority for the National Institute on Drug Abuse has always been to find a way to make illicit drugs chemically unenjoyable. As recently as this year, NIDA Chief Nora Volkow* told 60 Minutes that her agency was looking for "a cure" for getting high.
But it appears NIDA's quest to cure Americans of their enjoyment of marijuana has backfired. According to a report in The New Orleans Times-Picayune, funds from NIDA helped create the dangerous marijuana alternative known as "Spice" and "K2."
The funds were disbursed in the mid-1990s to a Clemson University researcher named Dr. John W. Huffman. It was while searching for a cure to marijuana "addiction" that Huffman developed the formula for Spice:
Former Clemson University chemistry professor Dr. John W. Huffman is the namesake of JWH-018, JWH-073 and JWH-200, three of the synthetic cannabinoids banned by the U.S. Drug Enforcement Administration in 2011.

"The National Institute of Drug Abuse wanted to research marijuana," said Dr. Victor Tuckler, the emergency room toxicologist at Interim LSU Public Hospital in New Orleans. "They were looking at different receptors of the brain to see if they could come up with a way that people wouldn't get addicted to this stuff."

Huffman and his colleagues created more than 400 synthetic cannabinoid compounds during the 1990s.

"Who knows how this got out," Tuckler said. "Pretty soon, it's on the Internet and people are making it over in China."
Recently, the circle completed itself. More than a decade after NIDA spent an unreported amount creating Spice, the Drug Enforcement Administration spent millions raiding gas stations and headshops across the county reported to be selling it. Here's the DEA press release about "Operation Log Jam":
As of today, more than 4.8 million packets of synthetic cannabinoids (ex. K2, Spice) and the products to produce nearly 13.6 million more, as well as 167,000 packets of synthetic cathinones (ex. bath salts), and the products to produce an additional 392,000 were seized.

Operation Log Jam was conducted jointly by the U.S. Drug Enforcement Administration and U.S. Immigration and Customs Enforcement (ICE), with assistance from the Internal Revenue Service Criminal Investigations, U.S. Postal Inspection Service, U.S. Customs and Border Protection, FBI, Food and Drug Administration's Office of Criminal Investigations, as well as countless state and local law enforcement members in more than 109 U.S. cities and targeted every level of the synthetic designer drug industry, including retailers, wholesalers, and manufacturers.

"Although tremendous progress has been made in legislating and scheduling these dangerous substances, this enforcement action has disrupted the entire illegal industry, from manufacturers to retailers," said DEA Administrator Michele M. Leonhart. "Together with our federal, state and local law enforcement partners, we are committed to targeting these new and emerging drugs with every scientific, legislative, and investigative tool at our disposal."
You can read the full press release here, but you won't find any mention of Huffman, Clemson, or NIDA.
This post originally said Natalia Volko was head of NIDA. Nora Volkow is the head of NIDA, Natalia is her sister.