Rick Santorum: Against Contraception, Against Online Gambling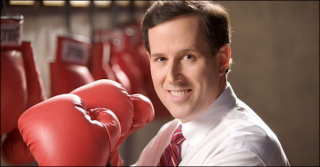 We know Rick Santorum casts a gimlet eye on contraception because he feels "it's a license to do things in the sexual realm that is counter to how things are supposed to be."
Now we know that the GOP presidential candidate—leading his party's nominating race in some polls—is also against online gambling. From the Las Vegas Sun via Jim Geraghty at the National Review, here's Santo's proclamation on the evils of cyberspace wagering:
Just as we've seen from a lot of other things that are vices on the Internet, they end to grow exponentially as a result of that. It's one thing to come to Las Vegas and do gaming and participate in the shows and that kind of thing as entertainment, it's another thing to sit in your home and have access to that it. I think it would be dangerous to our country to have that type of access to gaming on the Internet.
Santorum is against non-marital sex and gambling. What's next, banning step aerobics? Exactly how is this great nation supposedly to unwind?
One point worth making: Santorum makes a classic prohibitionist's mistake. He thinks that the law dictates the status of activity. When it comes to online gambling, Americans already had access to it long before there was definitive ruling on whether it was legal or not.
Prohibition doesn't squelch a targeted activity, even as it can reduce the number of participants. It drives an often-smaller number of people to more desperate measures, and introduces all sorts of criminal or black or gray market problems. And it makes anyone with an problem to seek help. I'd like to have a president who is capable of understanding that, or at least debating it.