Former DC Mayor Adrian Fenty: "What's Missing from Education Reform is Courage"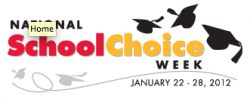 Last week was National School Choice Week (NSCW), a non-partisan effort to increase support for all forms of educational choice.
Reason Foundation, the nonprofit publisher of this website, was a sponsor of NSCW and we hosted events in DC and LA and traveled to the week's kickoff event in New Orleans, where political operative James Carville explained why he wanted more kids and parents to have more choices when it comes to K-12 education.
Here's our final NSCW video, featuring former Washington, D.C. Mayor Adrian Fenty talking about the need for school choice and what it will take to push that agenda. He's joined by Reason's education analyst Lisa Snell and others at the Bel Air home of foundation friend Judd Weiss.
About 4 minutes; shot and edited by Zach Weissmueller.
After the vid, stick around for a full playlist of our NSCW 2012 videos.