Blueseed: A Startup That Plans to House Would-Be Immigrant Innovators 12 Nautical Miles from Silicon Valley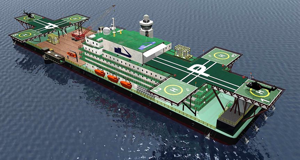 Max Marty sees a potential market in what he considers flawed U.S. immigration policies. Marty is the founder and CEO of Blueseed, a startup that plans to create a "high-tech visa-free entrepreneurship and technology incubator on an ocean vessel in international waters."
Because of the current U.S. immigration system, says Blueseed, "bold and creative entrepreneurs from around the world aren't given the chance to come to Silicon Valley and develop the technologies that could be creating jobs and propelling the economy forward." So the company plans to house these potential innovators near Silicon Valley on a floating vessel in international waters near the San Francisco Bay Area.
Most so-called "high-skilled" immigrants (scientists, engineers, computer programmers, and the like) come to the United States under the H-1B visa program. Congress caps the number of visas issued at 65,000 each year and allows an additional 20,000 exceptions for immigrants with advanced U.S. degrees.
Last week U.S. Citizen and Immigration Services announced that the Fiscal Year 2012 cap was reached, which was two months ahead of last year's pace. ComputerWorld noted that before the recession, the cap was routinely reached in just a week. It took only one day in 2007.
The son of Cuban immigrants, Marty previously worked for the Peter Thiel-funded Seasteading Institute, as did Blueseed's two other staffers. Ars Technica's Timothy B. Lee spoke to Blueseed's founder, who "acknowledged that it would be better for America to reform immigration laws and thereby make his company unnecessary."
Marty envisions the Blueseed ship as a floating incubator. They'll charge rent, but also take a small equity stake in each startup that comes on board. He hopes to cultivate a network of investors to help identify promising entrepreneurs. Blueseed will also accept applications directly from would-be entrepreneurs. Marty says they've already had expressions of interest from around the world.
Read the entire Ars interview here.
Read Shikha Dalmia on "Obama's immigration distraction," low-skilled immigration, and H-1B visas here.
And below, watch Matt Welch vehemently advocate MOAR immigration, specifically of the H-1B variety, while wearing what appears to be a pre-tied bow tie: