Meet the Man Arrested for the Utøya Shootings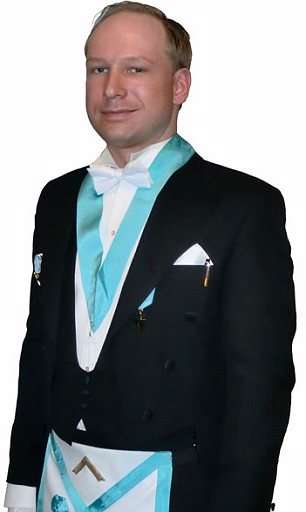 The 32-year-old Norwegian man arrested for gunning down children on the holiday island of Utoya has been named locally as Anders Behring Breivik.

Described as 6ft tall and blond, he is reported to have arrived on the island of Utoya and opened fire after beckoning several young people over in his native Norwegian tongue.

Reports suggest he was also seen loitering around the site of the bomb blast in Oslo two hours before the island incident - and also before the capital's explosion.

More than 30 are believed to have been killed - seven in Oslo and between 25 to 30 on Utoya Island, 50 miles north of the capital.
Breivik's alleged Facebook page is here, and he now has a presence on Wikipedia as well. According to the Daily Mail, the police are saying the killings "do not appear to be linked to Islamist terrorism." I'm sure we'll be hearing a lot more in the next few days about Breivik, his motives, and his possible accomplices.
Update: The authorities are now reporting a death toll of at least seven in the bombing and 80 -- yes, 80 -- on Utøya.
Update #2: Breivik reportedly left a host of comments on the Norwegian website document.no, and they have been collected here. The Norwegian-American libertarian Lene Johansen has been posting useful summaries of those statements on her Twitter feed; there is also Google's translation of the page, which is fairly clear though not necessarily reliable in every detail. Breivik appears to be deeply opposed to Islam, immigration, and multiculturalism, and he believes libertarians are soft on the multicultural menace.