Cookie Gilchrist, RIP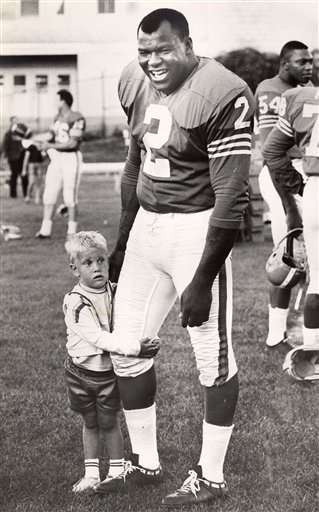 Who was this Cookie (we'll leave for later why we don't nickname people "Cookie" anymore)? Nation sportswriter Dave Zirin tells the tale:
Gilchrist, the 1962 American Football League MVP, died the day before a remarkable anniversary not exactly celebrated by the world of professional football. On January 11th 1965, Gilchrist led an African American boycott of the AFL All Star game, which was to be played in New Orleans. In 1965, an informal Jim Crow system ruled the Crescent city and African American players talked among themselves about their inability to get cabs, be served in restaurants, or stay at certain hotels. Gilchrist organized all 22 African American All-Pros to approach AFL commissioner Joe Foss and make clear that unless the game was moved, they wouldn't be playing. White players also announced that they would stand in support of their Black teammates. Foss had no choice but to accede to their demands, and moved the game to Houston's Jeppesen Stadium. […]

Gilchrist spent his retirement utterly unapologetic about his outspoken ways. He was offered enshrinement in the Canadian Football Hall of Fame, and Gilchrist became the first person to simply say no. He said that the racism and financial exploitation he suffered in the CFL could not simply be forgotten. He also for years refused induction in the Bills Ring of Honor because of his life-long conflict with Ralph Wilson, still the Bills owner today at age 87.

But late in life Gilchrist softened his stance, after receiving an outpouring of love from Buffalo when the news being public that he was battling cancer. Even Ralph Wilson wanted to reconcile and spoke to Cookie the weekend before his death. "I have a whole box of cards and letters," Gilchrist said. "I was surprised; it brought tears to my eyes. I thought Buffalo was mad at me."
Whole thing here.