Jerry Brown Wakes Up From 72-Year Dream; Teachers Unions Hand Him Rohypnol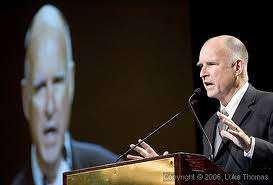 The L.A. Times has the story:
"We'll present a budget on Jan. 10. It will be a very tough budget, but it will be transparent," [Brown] said. "We'll lay it out as best I can. We've been living in fantasy land. It is much worse than I thought. I'm shocked." […]

People involved in the meetings expect him to enact an austerity budget in the spring, then hold a special election in which voters can decide whether to raise taxes or other revenues in order to restore services. He pledged during the campaign not to increase taxes without voter approval. […]

"This is really a huge challenge, unprecedented in my lifetime," Brown told hundreds of educators, union representatives and parents who had gathered at UCLA. "I can't promise you there won't be more cuts, because there will be." […]

"The day of reckoning is upon us and I'm determined to bite the bullet, get it done in whatever way the consensus of California can be built," he said.
Great! So how are the politically powerful teachers unions reacting to the news?
Educators responded by calling for an end to cuts, asking for greater discretion at the local level as to how dwindling dollars are spent, urging the state to seek more federal funding and requesting legislation that would allow them to increase local property taxes with 55% of the vote rather than the current requirement of two-thirds.

"We can't take any more cuts. You really need to look elsewhere," said Bernie Rhinerson, the chief district relations officer at the San Diego Unified School District. "We are at the cliff." […]

"There is no more meat on this bone to carve, the only thing left is amputation," said David Sanchez, president of the California Teachers' Assn. "If we do what Mr. Grinch wants us to do, the possibility of shutting down schools is a reality. Is that really what we want to do?"
And in L.A., the union is reacting like this.
As a longtime Jerry Brown fan (and onetime voter!), and a longer time Californian, I wish him the best. But that state looks hosed.
Thanks to commenter Virginia for the tip. Reason on Jerry Brown here.