Aging Hipster: I Did Blow 40 Feet From Obama!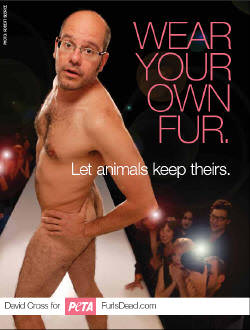 David Cross, the occasionally funny, occasionally self-righteous comedian and star of Alvin and the Chipmunks, tells an audience in Washington, D.C. that he snorted coke "maybe 40 feet" from President Barack Obama during the White House Correspondent's Dinner. Politico's Click (a bizarre satellite website featuring D.C.-related gossip, like this hot story about Bob Schieffer singing karaoke) has all the sordid details:
Comedian David Cross brought his stand-up routine to Washington's Warner Theatre Wednesday night and made a shocking confession (assuming he wasn't joking…) at the end of his routine: That he snorted cocaine while seated just yards away from President Barack Obama at this year's White House Correspondents' Association dinner.

"So I got to go because my girlfriend is a fancy Hollywood actress and she got an invitation to go this last time, so we went," the "Arrested Development" star told the crowd. He went on to say that he has an ongoing competition with a friend in which the two try to constantly out-do each other in "dares and outrageousness."

Cross said that he was seated "super close to the president" and seated with or near former Transportation Secretary Norman Mineta, Health and Human Services Secretary Kathleen Sebelius, former Defense Secretary Don Rumsfeld, Supreme Court Justice Antonin Scalia and "the editor-in-chief of the USA Today."

"But it's crazy and there's security, Secret Service is standing there," said Cross. "I've got photos of all this. … I'm there and the president is right here and with all these people at the table" Cross snorted some coke, he said. "Maybe 40 feet from the president of the United States!" Cross said he texted his friend to say, "No way you can ever top that."