You scumbag, you maggot / You [delightful same-sex couple]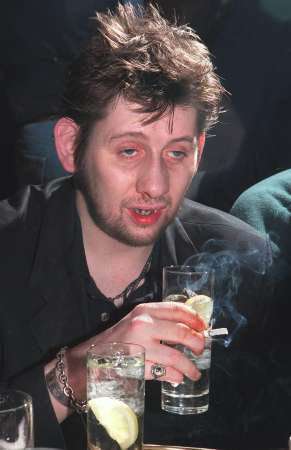 According to a report in The Daily Telegraph, BBC radio has removed the word "faggot" from that classic boozy Christmas song, The Pogues "Fairytale of New York." Pogues lyricist and singer Shane McGowen was asked to comment, but his answer was completely incoherent:
BBC Radio 1's decision to remove the word "faggot" from the classic Christmas song Fairytale of New York has roused the ire of Telegraph readers.

Music lovers of all political stripes and sexual orientations have posted messages on Telegraph.co.uk attacking the corporation's censorship of the re-released song by The Pogues featuring Kirsty MacColl.

[…]

BBC bosses said they had decided to remove the word faggot from the song, which experts believe could pip X Factor winner Leon Jackson to the Christmas No 1 slot, because it is a word that "members of our audience would find offensive".
But The Guardian is reporting that BBC execs have bent to the will of their thoroughly un-PC constituents, the British taxpayers, and promised that the song will remain unmolested:
Since this story was published earlier today, Radio 1 controller Andy Parfitt has reversed the decision to censor the song Fairytale in New York. In a statement released tonight, Parfitt said: "After careful consideration, I have decided that the decision to edit the Pogues song was wrong." So there you have it, "faggot" is back in.

It may have been done with the most progressive of intentions, but BBC Radio 1's decision to censor a lyric from Kirsty MacColl and Shane McGowan's Christmas standard Fairytale of New York looks rather to have backfired this morning.

A decision by Radio 1 chiefs has meant that Fairytale, a ballad apparently conducted between two rowing drunks, has been edited so as to obscure the lines "You cheap lousy faggot" and "an old slut on junk", a decision that was criticised this morning by MacColl's own mother.
Full Guardian story here.
"Fairytale of New York" video, starring Mr. Matt Dillon, here.