Georgia's 'Mimosa Mandate' Is a Victory for Alcohol Freedom
Now restaurants can sell alcohol on Sundays as early as 11:00 a.m.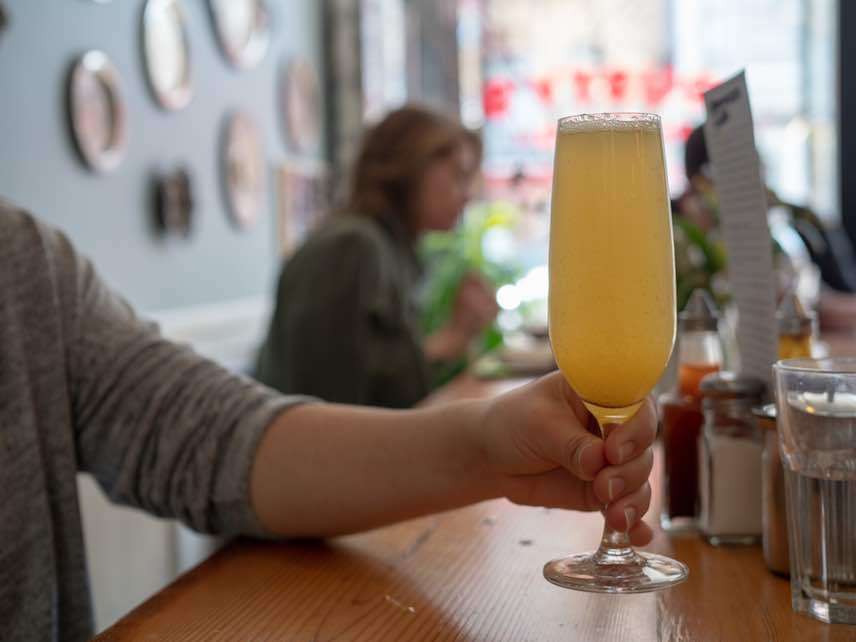 Bottoms up, Georgia residents: Among the slew of measures that voters passed in the November midterms, perhaps none was as vital as the "Brunch Bill," which allows cities and counties to let restaurants serve alcoholic beverages as early as 11:00 a.m. on Sundays, as opposed to the previously sanctioned 12:30 p.m. (The bill itself passed the state legislature in early 2018, but local communities held referenda during the midterms on whether to take advantage of the new rules.) Now the law is gradually taking effect, with Grovetown up next this weekend.
Boozy brunchers in several municipalities—from Atlanta to Athens to Savannah—can be two sheets to the wind before noon, peach mimosas in tow. But that's not the only reason to raise a glass.
"Each restaurant would generate about an extra $25,000 a year, because it roughly boils down to about $480 on a Sunday," Karen Bremer, CEO of the Georgia Restaurant Association and cognoscente of all things dining-related in the Peach State, tells Reason. That doesn't account for the impact on individual servers and bartenders, who will pocket more tips thanks to higher tabs and to patrons who might be, well, happier than usual. If adopted in every municipality, Georgia's roughly 4,000 restaurants could bring in an additional $100,000,000 in revenue.
Why stifle alcohol sales when they're clearly the miracle elixir society needs? Michelle Minton of the Competitive Enterprise Institute explained to Reason last year that the antiquated restrictions stem from blue laws, which limit Sabbath Day activities on religious grounds. Those were especially popular following the repeal of Prohibition. "When the states decided to legalize [alcohol] again, a lot of them instituted blue laws," said Minton, "and it's taken this long for most of the states to slowly get rid of them."
South Carolina state law still prohibits the sale of liquor on Sundays, and retail wine and beer can only be sold if a local ordinance allows it. In Maine, you normally can't indulge until 9:00 a.m., though the law makes an exception on St. Patrick's Day. (You can get shamrocked starting promptly at 6:00 a.m.) And when Christmas falls on a Sunday, Massachusetts bans off-premises alcohol sales on Monday, because the state can't miss out on an extra opportunity to deprive people of joy. The Bay State has also outlawed happy hours.
To make matters worse, Georgia's ban on morning drinking only applied to privately owned companies; government buildings have been free to let the booze flow. That disconnect is what inspired Republican State Sen. Renee Unterman to draft what's affectionately been called her "mimosa mandate."
Bremer tells AccessWDUN that she expects "many, many more counties and cities" to hold Brunch Bill initiatives this year. Cheers to that.