Chicago Alderman and Notorious Nanny-Stater Ed Burke Charged in Federal Corruption Scheme
Burke has tried to ban everything from electric cigarettes and self-driving cars to trans fats, plastic straws, and marijuana-flavored candy.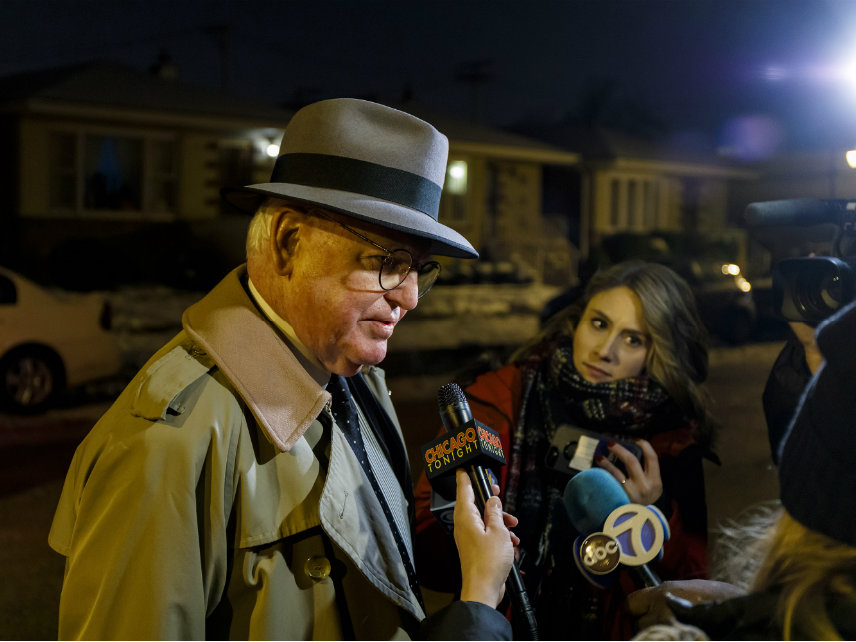 In court documents unsealed last week, longtime Chicago alderman Ed Burke was charged with trying to extort a Burger King franchise owner for legal work and campaign contributions.
Prosecutors allege that Burke, a powerful politician and notorious government nanny, used his position as alderman to steer legal work towards his own law firm and directly asked Burger King executives to make political donations to certain candidates. The fast food chain was seeking permits to renovate a restaurant within Burke's ward.
Though Burke did not step down from the city council seat he's held since 1969, he did, at the urging of Mayor Rahm Emanuel, resign his powerful post as chairman of the council's finance committee. Burke has professed his innocence.
As the Chicago Tribune notes, the extortion charges could be just the tip of the iceberg for Burke, whose office and law firm were raided by the FBI in November. According to the complaint against Burke, a federal judge allowed the FBI in 2017 to wiretap Burke's cell phone. The bureau had been recording his calls for months before the alderman allegedly tried to shake down Burger King in May 2017.
The charges against Burke gained additional national attention because of his longtime ties to President Donald Trump. Though the professional relationship between Trump and Burke formally ended in June of last year, the alderman's 12-year run as one of Trump's personal attorneys included convincing the city council, of which he was a member, to cut property taxes by $14 million for the Chicago Trump Tower.
Here at Reason, Burke is probably best known as Chicago's biggest nanny—and often a hypocritical one.
For example, Burke has been an ardent supporter of gun control laws. But while he was trying to deny residents of one of America's most violent cities the right to defend themselves and their property, he was protected day-and-night by a team of four Chicago police officers. Having personal bodyguards is not a typical perk of a city alderman, but it's one Burke has enjoyed for decades, at taxpayer expense, due to threats made against him in the early 1980s. When the FBI raided Burke's office in November, 23 guns were found.
In 2017, Burke introduced a bill that would have banned cashless businesses in Chicago, while making the argument that refusing to accept cash was "an elitist attitude that doesn't really reflect what Chicago is about." Perhaps cashless businesses are harder to extort?
Few things were beyond the reach of Burke's political nosiness. In 2006, Burke championed a bill that would have made Chicago the first large city in the nation to prohibit restaurants from cooking with trans fats, even before New York City did. Burke co-sponsored a proposed ban on caffeinated beers in Chicago in 2010. He also supported a ban on foie gras—though he later sank the bill after the mayor's office turned against it. In 2013 he led a charge to ban energy drinks like Red Bull and Monster. Summing up all that nannyism, Reason contributor Baylen Linnekin labeled Burke "the staunchest elected opponent of food freedom in America whose name you've never heard."
And, of course, he's a supporter of an effort to ban plastic straws in the city, too.
Burke has also tried to ban self-driving cars from Chicago, arguing that the technology is "not 100 percent safe"—unlike human drivers in Chicago, of course.
He's also opposed to electronic cigarettes and vaping, even though they are safer alternatives to smoking, which Burke led the charge to ban in Chicago restaurants and bars in 2005. He introduced the bill that banned chewing tobacco from Chicago baseball stadiums, a bill that would have banned powdered alcohol from being sold in Chicago (even though it wasn't yet for sale at the time), and a bill to ban marijuana-flavored candy (whatever that is).
Burke's fall from power is surely a win for freedom in the Second City. Though, to be fair, Burke did have at least one libertarian bone in his body: in 2016, he backed the repeal of a longstanding ban on Chicago strip clubs being allowed to sell alcohol.