Trump's Atrocious Saudi Statement Spurs Republican Resistance: Reason Roundup
Plus: U.S. support for gay speakers rose as support for racist speakers diminished.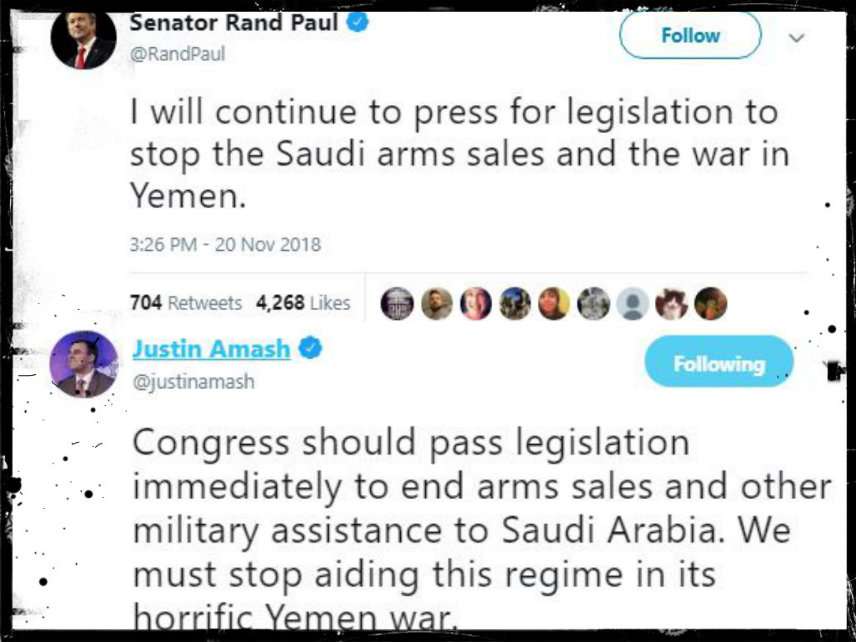 When you've lost Lindsey Graham… Yes, even one of the most hawkish, sycophantic members of Congress has condemned President Donald Trump's statement "on standing with Saudi Arabia"—a thoroughly depressing nine paragraphs that begin with "America First! and then, on a separate line, "The world is a very dangerous place!" From there, Trump went on to that say we can't know whether Saudi Crown Prince Mohammed bin Salman knew about the state-orchestrated torture and killing of journalist Jamal Khashoggi—"maybe he did and maybe he didn't!" are Trump's exact words.
"It is not in our national security interests to look the other way when it comes to the brutal murder of Mr. Jamal Khashoggi," tweeted Graham in response yesterday. "I firmly believe there will be strong bipartisan support for serious sanctions against Saudi Arabia, including appropriate members of the royal family, for this barbaric act which defied all civilized norms."
But based on Trump's statement, human rights norms come second to U.S. financial interests. "The Kingdom agreed to spend and invest $450 billion in the United States," the president proclaims. Some "$110 billion will be spent on the purchase of military equipment from Boeing, Lockheed Martin, Raytheon and many other great U.S. defense contractors."
Many are disputing his characterization of the scope of Saudi spending: "Saudi Arabia, in fact, has only followed through so far on $14.5 billion in arms and aircraft, the State Department acknowledged last month. Other deals are merely vague memorandums of understanding that cover the next decade, not this year," writes Robin Wright at the New Yorker.
But that's almost besides the point. What we should be angling for—and some in Congress are—is less American arms sales to Saudi Arabia, not more. These purchases are fueling Saudi airstrikes on civilians in Yemen as well as the starvation of children and all around destruction there.
This is, without a doubt, the most uninformed, imbecilic, toady, poorly-written, categorically untrue statement I have ever seen from a president of the United States. A complete disgrace. https://t.co/9eqoWFeroX

— Joe Cirincione (@Cirincione) November 20, 2018
All of this Trump brushes aside in his memo, because genocide is such a good deal for us!—and anyways, blame Iran. It's a sickeningly sociopathic statement from beginning to end, radically re-envisioning basic precepts of reality. And for once in recent memory, a Trump step too far for Republicans beyond the reliably decent Rep. Justin Amash.
Amash called out the president's statement yesterday and was joined by GOP colleagues Sen. Rand Paul and Sen. Bob Corker, among others. Both Amash and Paul are promising legislation to halt U.S. weapons sales to the Saudis, a measure which draws bipartisan support.
Trump is clearly very afraid of the prospect of the Senate delivering a serious rebuke to his policy by voting to end U.S. support for the Yemen war. But that is exactly what we will do when we vote on SJ Res 54 next week.

— Bernie Sanders (@SenSanders) November 20, 2018
Meanwhile, Corker opined that he never thought he would "see the day a White House would moonlight as a public relations firm for the Crown Prince of Saudi Arabia."
It's a fine characterization of the Trump administration's actions here, if inaccurate in pretending this is a first for White House occupants and staff, or members of Congress. The Obama, George W. Bush, and Clinton administrations have all had problematic ties to the Saudis and engaged in unethical behavior and transactions on their behalf. Maverick John McCain accepted a million dollar gift for his "human rights foundation" from the Saudis while simultaneously pushing to expand U.S. weapons sales there. And so on.
Obama turned a blind eye on the early stages of the atrocious Saudi war in Yemen and continued to sell arms to the Saudis and back the war. Now, his former National Security Adviser works for the Saudis.

— Dan King (@Kinger_Liberty) November 21, 2018
One thing not talked about is the Obama Administration encouraged Saudi Arabia "to be more aggressive" in Yemen as Hadi govt was failing. "At that time the Saudis were reluctant got more deeply involved," Gerald Feierstein, former amb to Yemen, told me. https://t.co/Sha52jMmO3 https://t.co/uliJyZFalq

— Sharon Weinberger (@weinbergersa) November 1, 2018
Trump explained himself to reporters later Tuesday with the ultimate in reality TV cliches: "It is what it is." This morning, he followed up with:
Oil prices getting lower. Great! Like a big Tax Cut for America and the World. Enjoy! $54, was just $82. Thank you to Saudi Arabia, but let's go lower!

— Donald J. Trump (@realDonaldTrump) November 21, 2018
For a good and thorough rebuttal of the president's Saudi statement, see this thread from University of Ottawa international affairs professor Thomas Juneau.
FREE MINDS
Data from the General Social Survey shows relatively consistent value attached to free speech principles, with support for speech by most marginalized groups growing. Between the early 1970s and today, the number of people who supported the right of gay people to give a public speech in town rose from under 65 percent to nearly 90 percent in 2016. Support for atheist speakers, "militarists," and communist speakers only rose. Support for racist speakers rose slightly in the '90s but remains around the same today as it did in the '70s (a little over 60 percent).
In any event, "these questions mostly track fear or dislike of certain groups, not free speech as a principle," suggest Liz Wolfe and Daniel Bier. "The fact that 90 percent of Americans today support allowing homosexuals to speak probably reflects changing attitudes about sexuality, not rising devotion to freedom of speech."
QUICK HITS
Interesting. This DCT judge apparently thinks the way to decide constitutional challenges to the exercise of undelegated federal powers is to carefully apply doctrine instead of reasoning backwards from a predetermined pro-govt result. Silly rabbit. https://t.co/DcVHJRfDES

— Clark Neily (@ConLawWarrior) November 21, 2018
Oh boy: the idea that "whether someone is male or female [is] based on the genitals they are born with" has "no foundation in science and should be abandoned," says the science journal nature.
The decline of Facebook:
"Amazon delivers things to your house. Google helps you find things online. Apple sells actual objects. Facebook … helps you get into fights? Delivers your old classmates' political opinions to your brain?" https://t.co/kpj8KJDvmP

— Peter Suderman (@petersuderman) November 21, 2018