Florida's Recount Ends
Two weeks after Election Day, Florida has selected a senator.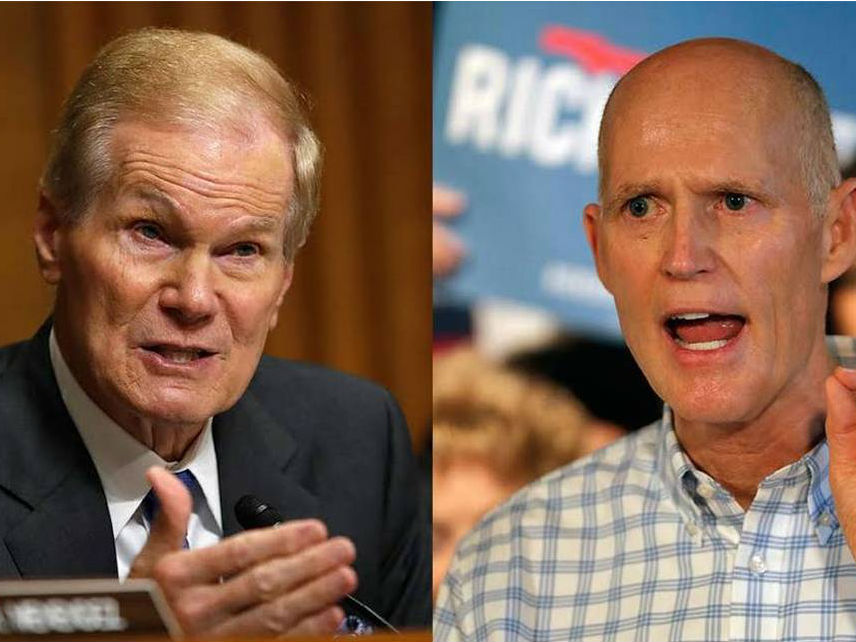 Two weeks after Floridians went to the polls, the fight over Democratic Sen. Bill Nelson's seat is finally over.
The gap between Nelson and Republican Gov. Rick Scott slowly came within a 0.5 percent margin, which triggered an automatic recount. (Florida does not have runoff elections for Senate races.) The Wednesday after the election, Nelson's campaign announced that it would be pursuing a recount, per state rules. The heavily Democratic counties of Broward and Palm Beach hindering the process's progress as they slowly tallied absentee and early voting ballots. Several lawsuits were filed, including one from Scott accusing Broward County Supervisor of Elections Brenda Snipes of withholding information about counted ballots.
A number of problems arose. There were discoveries of unmailed ballots, issues with voting technology, and questions about whether absentee votes would be counted. (Florida law gives a 10-day grace period following an election to count overseas absentee ballots.) Snipes found herself at the center of even more controversy when the county missed a recount deadline. After Scott sued to impound the county's voting machines, a judge ordered three deputies who were not affiliated with Snipes to oversee another coun and leave her out of the process.
Sunday's recount results showed Scott ahead of Nelson by over 10,000 votes. Though the results will not be certified until Tuesday, Nelson chose to concede the race to Scott:
Well, things turned out a little differently than we had hoped, but I by no means feel defeated. That's because I've had the privilege of serving the people of Florida for most of my life. It's been a rewarding journey and a very humbling experience. No one could be more blessed. pic.twitter.com/aGIf5nFcyZ

— Nelson for U.S. Senate (@NelsonForSenate) November 18, 2018
With the win, Scott became the fifth person in the state to be elected to both the governor's seat and a Senate seat.
In the meantime, Snipes has announced her resignation. In a Sunday letter to Scott, who is still acting as governor, she says that she'll be stepping down in January 2019.
The state's gubernatorial race had a messy aftermath too. After initially conceding to Republican Rep. Ron DeSantis, Democratic Tallahassee Mayor Andrew Gillum recanted his concession and called on all votes to be counted in his race. On Thursday, it was confirmed that DeSantis had indeed beaten Gillum. DeSantis largely ignored the recount effort and instead began appointing a transition team for the upcoming year.
Meanwhile, Democratic challenger Nikki Fried defeated Republican Matt Caldwell to become Florida's next commissioner of agriculture. Fried is a former medical marijuana lobbyist whose campaign bank account with Wells Fargo was shut down because of her political platform, which included expanding access to medical marijuana.